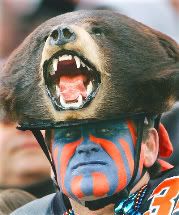 When training camp started, I had a mental list of where I thought each team would finish in the NFC North division. I believed the Green Bay Packers would finish in first, followed by the Minnesota Vikings, the Chicago Bears and lastly, the Detroit Lions. But when news broke on Tuesday morning that Brett Favre planned to retire, the division picture changed dramatically.
I could not believe my ears when I heard that the Minnesota Star Tribune said Favre told teammates he planned to retire. Wasn't he just saying that he feels more at home in Minnesota than he did during his time with the Packers?  If Favre does not return — which I'm not convinced until the season begins without Favre around — the race for second place becomes much tighter.
Favre had a career best 2009 season with only seven interceptions thrown. His dominant postseason play gave the Vikings a real shot at bringing the Vince Lombardi Trophy to Minneapolis until the New Orleans Saints shut them down in the NFC Championship game. Tarvaris Jackson and Sage Rosenfels will have to fill big shoes this season if indeed Favre decides that 19 seasons are enough for him. I don't believe that Jackson or Rosenfels are capable, at least not yet, of leading the Vikings to a Super Bowl let alone an NFC North title. And this is good news for the Bears.