The news of  Lebron James' decision to leave the Cleveland Cavaliers and head for the Miami Heat is still fresh in the minds of every sports fan–especially if you live in Cleveland. The front page of the Cleveland Plain Dealer on Friday morning shows just how bitter the fans and people of Cleveland are about James' decision.
Pay close attention to the little arrow pointing to James' hand. I don't blame the people of Cleveland for being bitter, although Dan Gilbert could have handled it a little better. One of the best things about their city just decided to publicly humiliate them and leave for sunny South Beach. Of course they're upset. Check out the cover of the Cleveland Plain Dealer the day LeBron announced he was leaving: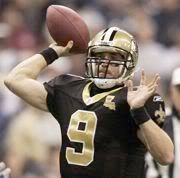 New Orleans Saints quarterback Drew Brees is coming off a Super Bowl win and spent part of his offseason writing a book. The book is called Coming Back Stronger and it takes readers through Brees' career from high school to the NFL. In the book, Brees talks about his career-threatening shoulder injury from 2005 and bring us to the present day where he led the Saints to a Super Bowl victory. All in all, it gives the reader a personal insight into the life of not only Drew Brees the superstar athlete, but also Drew Brees the person.
Brees faced a difficult situation when his mother committed suicide in August 2009. In the book, Brees ponders whether he could helped to prevent the death. He devoted an entire chapter to her in hopes that others who have lost someone can gain some insight from his thoughts:
"I felt like it was very appropriate because I feel like so many people deal with that, be it the relationship with a parent or death of a loved one, whatever it might be. I wanted to address it in a way that was very sensitive to my family but also very truthful, hoping that if somebody else has gone through that, or not gotten over it, or is not sure how to handle a situation like that. Maybe this can help."
Kudos, Mr. Brees. It's not easy to talk about your feelings to anyone, let alone the entire world. Not only that but talking about something as difficult as the loss of your mother could not have been an easy thing to write about. I already respected Drew Brees as an athlete, and now he has gained even more respect from me for just being a genuinely good person. It's refreshing to see that some NFL players aren't just focused on making dumb decisions and that they can use their fame to reach out to people.
Sources:
Brees Opens Up in New Memoir [AP/ESPN]
For the last six days, fans in New York, Chicago, Miami, Cleveland, New Jersey and other areas have been on the edge of their seats waiting for the decisions of three men — LeBron James, Dwyane Wade and Chris Bosh. James has kept his silence pretty much since the Cleveland Cavaliers were knocked out of the playoffs, but Bosh and Wade have been anything but quiet.
Twitter was their medium of choice, as both used the social media to update the world regarding their free agency meetings. The duo both made comments about how choosing their new team wouldn't be easy, but now it kind of feels like they had their minds set up on playing together a while ago.
Even on Wednesday morning Bosh wrote the following on his Twitter page: "What's all the fuss about this morning? I woke up to a ton of emails, texts and missed calls."
It's only been five days since the NBA's free agency period began and I'm already pretty tired of hearing about it. The one thing that did get my attention this weekend was the "challenge" that was dished out to LeBron James.  In short, he was being asked to step out of Michael Jordan's shadow and cast a bigger one upon the city of Chicago. It was the work of a Chicago based ad agency called Leo Burnett Worldwide that obviously wants LeBron in a Chicago Bulls jersey. They presented their challenge with a series of four items sent to LeBron beginning on Monday last week and ending on Thursday, the first day of free agency.
On Thursday, a two page ad ran in the Akron Beacon Journal, LBJ's hometown paper, with a question addressed to him. It was a picture of the Chicago skyline with a very familiar shadow cast over it. The shadow looked like Chicago's most famous superstar — Michael Jordan, of course. It said "LeBron, the fans of Chicago have a question for you. Can you cast a shadow this big?"  Personally, I think that's awesome. It's telling LeBron that yes, you would be coming to the city where thee greatest player ever spent most of his career and that you shouldn't be afraid of his shadow. But that wasn't all that LeBron got.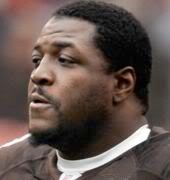 Cleveland Browns defensive end Robaire Smith is the latest athlete to run into trouble because of guns. Smith was charged on Thursday for having a loaded Belgian gun in his carry-on luggage at an airport in Flint, Michigan, back in November. Yeah, because everyone just walks around with a gun in their carry-on bag at an airport.
What I want to know is why do you need to carry a gun with you on a trip? And not just that, but why is it in your carry on? I would think that Smith knows better than to be so careless or even associate with a gun. I mean he's had plenty of examples to look at. If you just want to stick to the NFL, there's Plaxico Burress, Marvin Harrison, Michael Vick and even his teammate Shaun Rodgers. And that's just the NFL.
Could someone please tell me what the appeal of carrying around a firearm is? Does it make you more manly? Maybe the people caught with them just all fear zombies are going to attack humanity at any second and they just want to be ready? Whatever the reason is, these guys continue to make the same mistakes over and over again to the point where I'm quite frankly tired of hearing it.  The leagues need to take more effective action on these incidents, maybe just ban their players from possessing guns altogether. Seriously guys, knock it off. It's a bad time for sports when incidents like these are commonplace.
Sources:
Cleveland Browns defensive end Robaire Smith faces charges for trying to take a loaded gun on plane at Flint's Bishop Airport [The Flint Journal]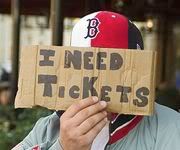 MLB has announced that it is giving fans the chance to reserve their postseason tickets right now for a small fee. As wonderful as that may sound, you need to look at the bigger picture. The truth is only eight teams are going to make the playoffs, and everyone else is just throwing their money away.
For one, if you pay to reserve tickets to any game in the postseason and your team never makes it there, you'll never see that money again. Or maybe your team does make it but gets annihilated, well then I hope you didn't buy tickets to the ALCS/NLCS and the World Series too, because then you're out of luck and money.
MLB is being sly about all this because at first glance it doesn't look like that big of a deal. It's only $10 to reserve tickets for the ALDS or NLDS. You want to go to the ALCS/NLCS too? Sure, why wouldn't you? Well that's just a small fee of $15. Well you might as well reserve tickets to the World Series too while you're at it. I mean you'd be dummy not to right? Dude, it's just $20 and you're guaranteed a seat for the World Series; you're making an investment in your sports future.
Eh, not really … you're more than likely just giving MLB money. At the very least you gave them $35 in reservation fees alone. That doesn't go towards the cost of your ticket — you still have to pay for that. There's a lot of things that need to fall into place here for all of this to work out in favor of a given fan:
The 2010 FIFA World Cup has been interesting to say the least. From the refs screwing over England to players hitting reporters it seems like there's been no end to the madness … and the tournament's not even over yet! The latest piece of ridiculousness comes to us from Nigeria, where their president Goodluck Jonathan has banned the Nigerian national team from competing in international games for the next two years due to their poor play in the WC.
Does anyone else see this as a little bit dramatic? No one likes to see their team lose — it's heartbreaking and infuriating all at the same time. But is Nigeria's president really proving anything by not allowing the team to compete internationally? Yes, he's proving that he's an idiot. The team didn't break any rules why playing in the World Cup — they just sucked. There's no law against sucking.
Did he really expect the national team to just go in there and dominate? Even if they made it past the three games they played they would have run into a team like Germany or Spain and I'm sorry, but they don't have a chance in that match-up.
The thing that really irks me about all this is that by "punishing" the team for their bad performance, they are potentially violating the government interference rule. And because of that, FIFA could suspend not only the men's national team but the Under-20 Women's team which is supposed to compete on the 13th of July in Germany. They haven't even had their chance to play yet and because their president is being stupid they might lose their spot. That's just not right.
Governments should have a very small role in sports. They can be fans, host parades, and give teams money for new stadiums (which I'm not quite sure I 100% agree with that all the time either), but do not sit there and suspend a team. If that were the case, teams like the Detroit Lions would have been booted a long time ago.
If you haven't heard of Washington Nationals pitching phenomenon Stephen Strasburg by now, you must be living under a rock. The 21-year-old right hander has been amazing in his first five games, posting a 2.27 ERA with 48 strikeouts. Regardless, I don't think he should be placed on the All-Star team just yet.
Strasburg no doubt has All-Star quality stuff, but by the break he will only have pitched around seven games. Is it really fair to send someone to the All-Star Game who wasn't even a major leaguer the first two months of the season? I don't think it is. Granted it wasn't up to Strasburg that he started out in the minors, but he will only have been in the majors for just over a month when the break comes and it doesn't sit right with me to send him to Anaheim.
Like I said, Strasburg is only 21; it's not like this will be his one and only shot at reaching the game if he doesn't go this year. He's got youth and talent on his side and I just know that he will be sporting an All-Star jersey for years to come, but it just shouldn't be this year. I'm not saying he doesn't have the talent to be there — because he does — I just feel like he should have a few more games on his resume before he joins the ranks of the other All-Star players.
As long as he stays healthy and doesn't go into a sophomore slump next year, I can see Strasburg starting the 2011 All-Star Game. But for this year, let's leave it to the guys who have been around the bases a little longer.