Even at 80, Lasorda Still Runs the 4.4 40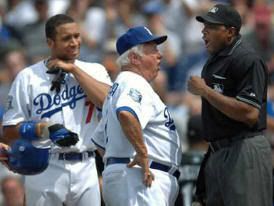 … to the buffet line. Just kidding. But honestly, the belly led the way when Lasagna bolted out of the dugout Tuesday in the Dodgers' spring training game against the Marlins. The rest of Tommy wasn't far behind and by the time the entire load made it, his weak-sauce case to argue a call was already well-planned out. Dude pleaded with the home plate umpire that James Loney's swinging bunt down the first baseline was foul, though it wasn't a close call. Apparently James Loney (holding back laughs while grinning) was quite amused by the charade:
"I was listening," James Loney, whose infield dribbler led to the argument, said with a smile. "He kind of surprised me when he came out. He was arguing, he was yelling. He was giving it to him.

"It's Tommy, though, you know? You've got to win."
You didn't really think Tommy could get by serving as an honorary manager in a split squad game without picking a fight, did you? Tommy admitted just as much — saying he argued the call for effect: "[The fans] always liked that when I'd go out and start arguing. Put on a little show." The dude's a total sideshow, but man, I do have to admit, watching him trot out of that dugout to argue a call is worth the price of admission. Perhaps that's what the Dodgers had in mind when they made Joe Torre their biggest off-season acquisition. Zing!