A-Rod Hits Ball Hard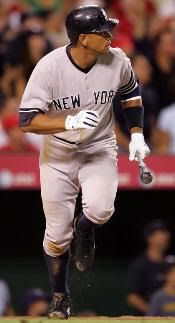 When I saw the laser beam he hit against the Angels last night for his 40th of the year, I immediately called up a few baseball-watching friends; this was one of those hits I didn't want them to miss. I can honestly say that it was one of the hardest hit home runs I've ever seen. It was just like a line drive that should have gone over the shortstops head and into the left-center gap for a double. Only with A-Rod, the ball kept rising, and just went screaming over the fence into the bullpen — an absolute bullet. In fact, it was such a rod it confused the stadium radar gun.
The ball shot like a cannon off Rodriguez's bat, producing a stadium radar-gun reading of "05" because the monitor is only capable of double-digit figures. The actual velocity of the ball off Rodriguez's bat, confirmed by the speed-gun operator: 105 mph.
And it wasn't even off of Bartolo Colon either! Maybe what Jose Canseco is insinuating has some truth to it. Think about it — a line drive that should be a double in the gap going over the fence? It was one of the damned hardest balls I've ever seen hit. You don't get those types of hits working out at your local spa if you know what I mean.
(Photo courtesy Jeff Gross/Getty Images)