Bryce Harper benched for not hustling on weak grounder (GIF)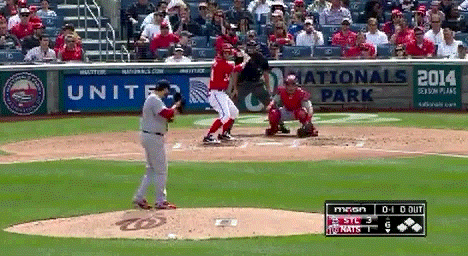 Bryce Harper was benched by Washington Nationals manager Matt Williams Saturday for not running out a weak comebacker to the pitcher during the sixth inning of a 4-3 loss to the St. Louis Cardinals.
Harper waved at a good changeup that dove low and away and hit a dribbler back to Lance Lynn, who threw to first for the easy out. Harper just jogged about halfway down the line and peeled away without running all the way to first after he was thrown out. Williams responded by benching his left fielder and having Kevin Frandsen replace him.
Harper was 0-for-3 in the game and has been dealing with a quad injury, so you figure Williams might give him so leeway, but that was not the case.
"We made an agreement. He and I made an agreement, this team made an agreement, that when we play the game, we hustle at all times. That we play the game with intensity and the willingness to win," Williams said after the game.
"For the sake of his teammates, he needs to play with aggression in the way he plays," Williams said of Harper.
You can watch video of his postgame comments below:
Clearly Williams will not allow the quad injury to be an excuse. He felt Harper didn't run it out because he was frustrated with his at-bat, not because he wasn't well enough to. He probably sent the youngster a good message with the decision.
Oh, and DC Sports Bog shared this on Twitter – how great is this ironic Nats in-game magazine cover for Saturday's game:
Amazing cover for today's in-game Nats mag pic.twitter.com/8Rz5np7jNh (via @bencelestino)

— Dan Steinberg (@dcsportsbog) April 20, 2014
Forearm bash to Eye on Baseball