Bud Selig Made Over $18 Million in '07, 5th Highest Paid in Baseball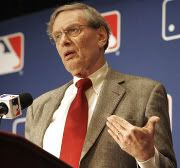 Try not to spit up on the monitor or gag while you digest the news that baseball commissioner Bud Selig made just over $18 million in 2007 according to the Sports Business Journal. Think about that disgusting number and consider that only four effing players pulled more cash that season than Buddy Boy. Yes, Selig out-earned everyone in the game save Alex Rodriguez, Derek Jeter, Roger Clemens, and Jason Giambi (all Yankees, of course). Only seven players will make more than that figure in this upcoming season, but it's conceivable that Selig's salary increased since then. How sickening is that?
For this guy to tell us that "This Time it Counts" he's getting paid over $18mil? For him to allow All-Star games to end in ties and the same World Series game to be played on two separate days he's getting that obscene salary? To show you how disjointed things are, Selig almost doubles the next highest earning commissioners — Roger Goodell and David Stern — even though Goodell's sport earns more revenue and Stern's is arguably as popular. And I shouldn't even have to be defending guys making 8-figure salaries. But you want to know the worst part about Bud cashing in on over $18 mil? No doubt it's this. That guy makes a million less and it's ten 100k jobs or twenty 50k jobs for employees that wouldn't have to be fired. Makes you think of all the bonus-babies on Wall Street with their golden parachutes. Yuck.