Carlos Torres works his own dome like a speed bag after blowing game (GIF)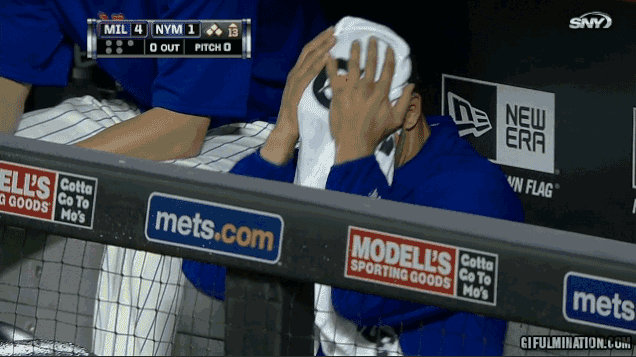 Carlos Torres blew Thursday's game for the Mets in extra innings against the Brewers and he did not take it well at all.
The relief pitcher gave up two hits and no runs in the 12th, but it was in the 13th where the wheels fell off. Torres allowed 5 hits and a walk without retiring a batter that frame. He took the big "L" in a 5-1 loss in 13 innings. The game went from a 1-1 tie in the 13th to a 4-1 deficit when Torres was yanked. He was even charged with a fourth run after Dana Eveland hit a batter with the bases loaded to make it 5-1.
Though bashing himself in the head looked like it hurt, at least it's better than slamming a fist into a wall and breaking your hand. This way the normally reliable reliever can get back to blowing games in no time!
Maybe this was just all karma for drinking that Yasiel Puig haterade.
H/T Deadspin, GIF via Eye on Baseball