Chase Headley meets new team then delivers game-winning hit (Video)
The New York Yankees acquired Chase Headley from the San Diego Padres on Tuesday. After catching a flight from Chicago, the third baseman was able to arrive to the Bronx by about 7:30 p.m. Rather than giving him the night off to get situated, Joe Girardi decided to use Headley as a pinch hitter in the eighth inning. It was the right choice.
Headley delivered the game-winning hit in the 14th inning of what turned out to be a lengthy battle between the Yankees and Texas Rangers. After going 0-for-3 in his first three at-bats as a Yankee, the 30-year-old played the role of hero with a walk-off single.
"There's a lot of nerves there," Headley said after the game, per MLB.com Bryan Hoch. "But I kind of stepped out of the box and I thought to myself, 'Why not? Why wouldn't this day go this way?' I was able to enjoy it."
The best part about Headley's big night was watching him introduce himself to his new teammates and coaches when he arrived at Yankee Stadium just hours before his big hit. Deadspin captured some of the exchanges in GIF form: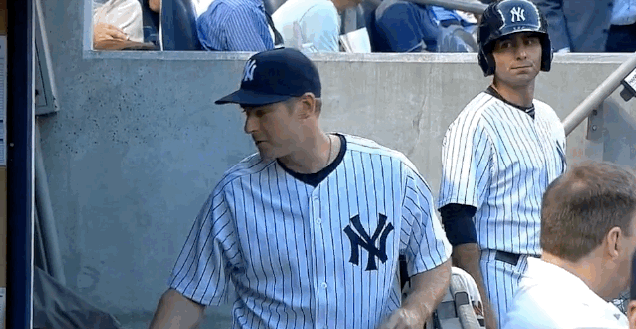 Headley is hitting just .230 this year with seven homers and 33 RBI, so the Yankees probably have limited expectations for him. He exceeded them on Tuesday night.