Chipper Jones Sports the Sombrero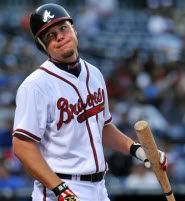 Man, just when you thought the LBS Golden Sombrero Club had seen its last days, we get two players achieve the milestone in the same week … from the same team no less. A few days ago it was Braves rookie outfielder Jordan Schafer turning the trick against the Giants in the first game of the series. On Wednesday evening, it was none other than likely Hall of Famer Chipper Jones who received the honor.
Chipper went 0-for-4 in the team's 6-3 loss, punching out all four times. He went down looking the first time and swinging the last three. His first three at-bats came against another Hall of Famer, pitcher Randy Johnson. The final K-job came against reliever Merkin Valdez. The Sombrero was particularly intriguing as far as Golden Sombreros go for several reasons. For one, this was the first time in Chipper's 15-year career that he's gone Golden. Secondly, he's easily the best hitter that we've seen take the Sombrero since the club's inception. Lastly, it came against Randy Johnson in the same game where the Unit earned his 299th career win. Point is although the Big Unit is 45-years-old, the lanky lefty still has some nastiness in him. Not bad for an old dude.