Dodgers Need to Trade Andruw Jones
***This is a special farce written by site contributor Alex Ubeda***
After being benched for three days in a row, Los Angeles Dodgers outfielder Andruw Jones and his agent Scott Boras asked for a trade and the Dodgers responded. The Dodgers are sending Andruw Jones and his $36 million contract to the A's for 22-year-old outfielder Carlos Gonzalez. (I WISH THIS WOULD HAPPEN)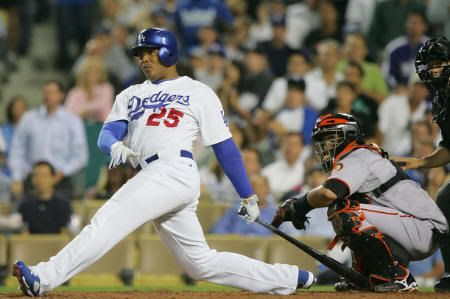 Jones and his agent felt a fresh start would help the struggling former All-Star outfielder get his groove back. Boras said the fact that Oakland is a West Coast team was one of the main reason Jones agreed to waive his no-trade clause. Boras also liked the fact that Jones would be able to start and play center field on a daily basis. He also stated that the young players in the A's organization would benefit from his arrival and could learn a few things from Jones.
If you break things down numerically, you'll see it's a fair trade, with the exception of the rookie Gonzalez edging out Jones in a few categories:
AB/R/H/HR/RBI/AVG
189 20 32 2 13 .169
186 20 51 3 19 .274
Guess who's who? Jones' numbers have been dropping off steadily since his MVP-type year in 2005 when he hit 51 home runs and had 128 RBIs. The following year his home run total dropped to 41. Last year he hit 26. This year his on a pace to hit a WHOPPING 4 home runs. Jones and his agent were unavailable for comment about his home run decline.
Now some background on Carlos Gonzalez. Gonzalez is a native of Maracaibo, Venezuela, who was drafted out of high school by the Arizona Diamonbacks in 2003. He excelled in every minor league level and was named the organization's top prospect by Baseball America before being involved in the Dan Haren trade that sent him to Oakland. He is earning the league minimum while Andruw is being paid just over $18 million.
OK, so obviously this a completely bogus trade … but how poorly is Jones playing? A minor league All-Star is outplaying him! So I know Gonzalez has some skills, but didn't Jones hit 51 home runs three years ago? What's the deal with him? CC Sabathia has the same number of home runs as Jones (2) and that's with only 18 at-bats! When a pitcher has the same number of home runs as your $18 million player, you have problems.
Jones wasn't linked in the Mitchell Report which dealt with players who were accused of using HGH and/or steroids, but with such a huge drop in ALL of his batting stats, maybe some investigating is in order. It is extremely uncommon, even in the difficult game of baseball, for a player of Jones' caliber (potential HOF) to have such a drastic drop. I know he had a knee surgery this year — which was the supposedly the reason for his slump — but he still looks as bad as ever. If it wasn't the knee, what can it be?
It would give me a lot more peace of mind to know that he was mentioned in the Mitchell Report. In that case at least I would have had an explanation for what's wrong with him. If you ask me, it's either Andruw's no longer juicing, or he has a twin brother like Jose Canseco whose bro Ozzie looks just like him but can't hit his weight.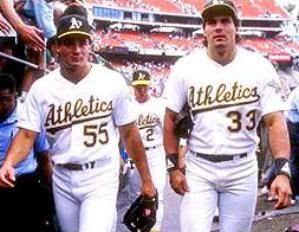 Maybe Gonzalez can ask for 18+ million in his next contract negotiation. Or at the very least, he should ask the Dodgers for it.