Don Mattingly Was Contractually Manager-in-Waiting for Dodgers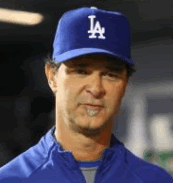 If you were wondering why Dodgers hitting coach Don Mattingly turned down interviews to manage the Nats and Indians, now we now why. Mattingly, who was announced as Joe Torre's successor on Friday, apparently had it written in his contract that he would be the Dodgers' manager should Torre step down.
Dodgers reporter Dylan Hernandez of the LA Times tweeted (via MLB Trade Rumors and LBS contributor Alan Hull) that "Mattingly had signed a deal that guaranteed him the manager's job if Torre stepped down" before the season began. The practice has been common in college football where coaches and schools name a "coach-in-waiting" so that they don't lose valuable assistants to other schools. As far as we know, this is the first time the practice has been used in baseball.
MLB granted the Dodgers an exemption from the rule that requires teams to interview minority candidates for managerial jobs because they kept the League updated on their plans. As much as Mattingly figured his future was solidified, I would caution him against making great plans; the Dodgers could have new owners before too long and those new owners might want new managers.
As far as Joe Torre goes, the man has been incredibly celebrated by baseball. I always felt he had the easiest job in baseball all those years with the Yankees. He really did underachieve with many of those teams. Until the Dodgers got Manny in 2008, the Dodgers weren't going anywhere. This year, the team went down the crapper under his watchful eye as he completely mishandled the bullpen and overused too many arms. You know what? Mattingly should fit in perfectly.