ESPN Right to Attack Tejada's Age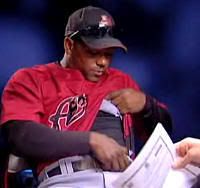 By now you must have seen the ESPN E:60 interview with Miguel Tejada — or lack thereof. If you haven't, welcome back to the States, hopefully you didn't lose your passport during your travels. Anyway, for about a week now ESPN has been promoting it's E:60 segment with Miguel Tejada where they break out a document proving Tejada had been lying about his age. Tejada promptly ends the interview and storms off, acting incredulous that they weren't there to ask him strictly about his .370 batting average. Initially I felt badly for Tejada; he looked so helpless and innocent, you had to feel poorly for him. I know some other people felt the same way. But once I got past that, and making jokes about Julio Franco revealing his true age, I'm actually pleased that ESPN handled the interview and its promotion the way they did.
Think about this for a second here: Miguel Tejada is not the victim. The teams that paid him his salaries and signed him long-term are the ones who were duped. They're the ones who should be complaining. Tejada obviously proved he could play at a high level, but he never should have lied to do it. Matter of fact, most players who lie about their age know exactly why they're doing it — being younger makes them more of a prospect which in turn results in higher bonuses and more money. By calling out Tejada and humiliating him in the interview, not to mention replaying the clip over-and-over each day, they were sending a message to other players that they could too be exposed the way Miguel was. Maybe some players/representatives will think twice before they falsify information, take a spot away from another kid, and steal money from organizations.
You can watch the video after the jump if you haven't seen it.