Francisco Liriano Is Officially Back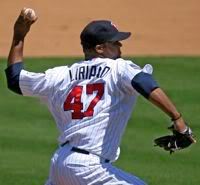 It's been four years since Twins pitcher Francisco Liriano bolted from the bullpen to the starting rotation to become one of baseball's most dominant pitchers. Liriano was trading off with fellow southpaw Johan Santana that summer in a competition of "top this," where Francisco went 11-2 with a 1.70 ERA as a starter and Johan went 19-6 with a 2.77 ERA en route to his second Cy Young Award. Liriano never finished that season because of an elbow injury that ultimately led to Tommy John surgery.
Liriano missed all of the 2007 season because of the surgery and he returned to make 14 mediocre starts in 2008. Twins fans were hoping Liriano would return to his 2006 form last season, but Francisco struggled mightily and was demoted to the bullpen in August. While many people had written Liriano off as a contributor, he came out and dominated in the Dominican Winter Leagues, showing flashes of his '06 form. Liriano proceeded to win the fifth starter job for the Twins and he has paid off in a major way.
Liriano went eight scoreless innings on Tuesday night to help the Twins shutout the Tigers 2-0. In fact, Francisco has now gone three straight starts (23 innings) without allowing a run. He's 3-0 in that span and he has a 0.93 ERA on the season (he allowed three runs in a no-decision for his first start). Liriano also has a 24/5 strikeout-to-walk ratio in his last three starts, allowing only 14 hits in that stretch. If that's not the type of dominance we saw from Liriano back in 2006 then I don't know what is. It remains to be seen if Liriano can keep this up but there's no doubt that his re-emergence could be the difference maker for the Twins this season and that's bad news for the rest of the AL Central.