Jonny Gomes Wears the Golden Sombrero
And on May 29th, 2008, it was a momentous occasion in the life of Jonny Gomes. I hereby induct you, Mr. Gomes, into the LBS Golden Sombrero Club.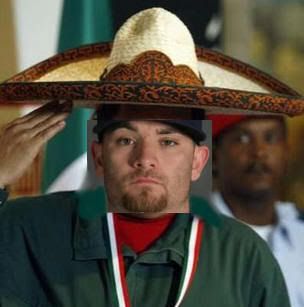 Gomes, a notorious hit-or-miss player with a lot of pop and a ton of strikeouts as well, did just that. He took the gas pipe striking out four times in a 5-1 loss to the White Sox. He punched out three times against John Danks and the fourth time was against Octavio Dotel. The dubious performance drags Gomes' average down to a paltry .209. At least he does something to hang his hat on: he now belongs in the same club as Curtis Granderson, Matt Joyce, and Carlos Pena. Congrats, Jonny, you deserve it.