Madonna Wants Alex Rodriguez's Baby? A-Rod Moving into the Neighborhood?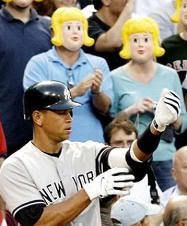 So I still haven't completely comprehended the whole Madonna/Alex Rodriguez couple. It's still pretty strange that A-Rod wound up with her in the first place. Think about it: when you're A-Rod, you have the pick of the litter. Anyone you want and it's yours. And you choose some of the chicks that he does? I don't get it. Well since I guess many of us are past this totally weird couple thing, try this on for size:
Rodriguez shares Madonna's belief in the mystical Jewish tradition of kabbalah. Monday, Britain's Daily Mail quoted a friend of Madonna as saying, "She thinks he's physically a great specimen. And if she is going to have another child, he would be the ideal man."
…
One report had Rodriguez close to buying the $80million four-bedroom, 5,200-square-foot penthouse there. Insiders told The News he was scoping out several cheaper condos."
Dude, A-Rod, get out before it's too late. Seriously man, what are you thinking? I can't believe how easily swayed he is. He really doesn't sound too far off from the kid Jose Canseco described in the book, Vindicated. And how about something a little more in your age group too, A-Rod?