Mike Piazza to Hall as Dodger or Met?
Now that The Dude has officially called it quits, the discussion begins: will Piazza go into the Hall as a Dodger or a Met? First off, The Dude goes down as the best hitting catcher in the game. He was crappy behind the plate and couldn't throw out a special olympics hurdler, but man, could he hit. So in my eyes, there's absolutely no question that he's a Hall of Famer — first balloter at that. So does he go in wearing that Dodger cap, or the Mets shrouds?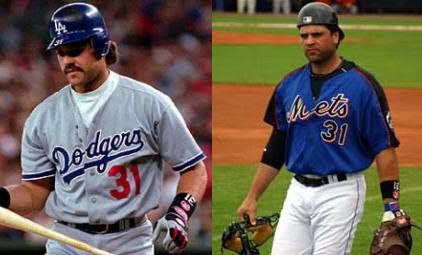 Piazza was drafted by the Dodgers, started his career with the Dodgers, and first made his name as a Dodger. He was a relative of Tommy Lasorda's — how much more Dodger can you get than that? And if it weren't for the Dodgers and Lasorda, Piazza might never have been a professional baseball player. Piazza was the Rookie of the Year with the Dodgers, finished second twice in MVP voting with the Dodgers, and was an All-Star in all five full seasons he played in LA. The Dude hit over .318 in every full season with the Dodgers, including a ridiculous .362 in '97. When Piazza was at his peak, it was with the Dodgers.
On the other hand, a larger part of Mike Piazza's career was played with the Mets. Piazza played seven full seasons in New York, and spent the most part of '98 there as well, the year he was traded. He duplicated his 40-homer season in his second year with New York and hit over 33 dingers with them four straight years. His skills declined as the years in New York went on, but Piazza was still an icon there. Most importantly, The Dude led the Mets to the World Series in 2000.
So when it comes down to it, how will The Dude be remembered? I think it's as a Met, and I think that's how he should go into Cooperstown. He spent a longer part of his career there, reached a World Series there, and was an All-Star there. And recent history tends to stand out more than ancient history, which is what the Dodgers are in his career. It's a tough call, but I think The Dude goes in as a Met.
Oh yeah, and if Piazza makes it into the Hall first ballot, second ballot, or before McGwire, Bonds, Clemens, etc., that's going to upset me. It shouldn't be so subjective. As long as there's a place for Mike Piazza in the Hall — which there is — he belongs in the same category as all the aforementioned characters — the steroids wing of the Hall. They were all legends of the game during the same time period and all belong in the same group.