My AL All-Star Team
As I've said before, one of the few bright sides from the All-Star game is that it gives us something to debate. Every year, inevitably there are several players left off the roster. So, without further ado, here's how the AL All-Star team should look, based purely on performance:
American League Starters

C – Victor Martinez, Cleveland
1B – David Ortiz, Boston
2B – Brian Roberts, Baltimore
3B – Alex Rodriguez, New York
SS – Carlos Guillen, Detroit
LF – Magglio Ordonez, Detroit
CF – Ichiro, Seattle
RF – Vladimir Guerrero, LA of Anaheim
AL Pitchers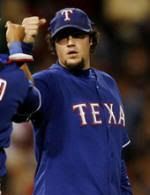 SP *Dan Haren, Oakland (starter)
SP Johan Santana, Minnesota
SP C.C. Sabathia, Cleveland
SP Josh Beckett, Boston
SP John Lackey, LA of Anaheim
SP Justin Verlander, Detroit
SP Gil Meche, Kansas City
RP J.J. Putz, Seattle
RP Francisco Rodriguez, LA of Anaheim
RP Jonathan Papelbon, Boston
RP Eric Gagne, Texas
RP Bobby Jenks, Chicago
AL Reserves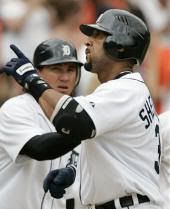 C Jorge Posada, New York
1B Justin Morneau, Minnesota
1B Carlos Pena, Tampa Bay
2B Placido Polanco, Detroit
3B Kevin Youkilis, Boston
SS Derek Jeter, New York
SS Orlando Cabrera, LA of Anaheim
OF Torii Hunter, Minnesota
OF Gary Sheffield, Detroit
OF Alex Rios, Toronto
OF Curtis Granderson, Detroit
OF Grady Sizemore, Cleveland
My Changes
Brian Roberts, Carlos Guillen and Victor Martinez are starters
Orlando Cabrera, Eric Gagne, Gary Sheffield, Kevin Youkilis, Carlos Pena, and Curtis Granderson on the squad
Pudge Rodriguez, Mike Lowell, and Manny Ramirez, Carl Crawford and Michael Young are out
Biggest Problems
Texas doesn't have an All-Star — it should be Teixeira but he got hurt. Same thing with Tampa Bay — it should be Upton but he got hurt. KC doesn't have an All-Star either. Meche is taking up a spot that should go to Kelvim Escobar.
My Snubs
Pudge Rodriguez, Kenji Johjima, Joe Mauer, Jhonny Peralta
Kelvim Escobar, Jeremy Bonderman, Erik Bedard, James Shields