Remembering Kazuhito Tadano and His Gay Porn Video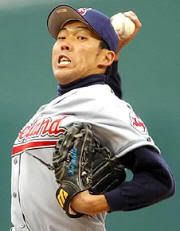 That Julian Tavarez story we posted about earlier, wherein Tavarez declared if he weren't a baseball player, he might have pursued a career in adult films, got me thinking. It reminded me of another baseball player who had been in porn. Back when he was a college student in 2002, former Indians pitcher Kazuhito Tadano performed in a gay porn video. He was a sophomore in college and acted in the video because he needed money at the time. Tadano later declared the choice a mistake.
Although he was expected to be a 1st round draft pick in Japan, once a tabloid released photos from the video, Tadano went undrafted. As a result, Tadano was forced to test the American waters. He's currently in Triple-A with the Oakland A's system, and he hasn't allowed a run in 12.2 innings with the Sacramento River Cats. But the reason I bring up Tadano is to share with you the scouting report on Tadano back when he was with the Indians. From batters who faced him:
He goes high and tight with his fastball, and he likes to come back door with a curve.
Oh that's a thing of beauty. Good luck to Tadano as he continues to travel down the road back to the bigs.