The Oakland A's Have Conceded 2008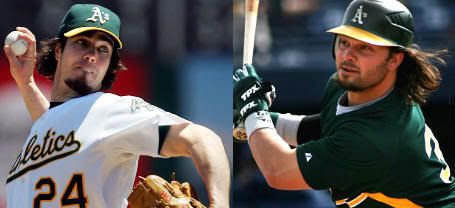 Which makes me quite pleased as an Angels fan. As I told my buddy Alan today, this could be the year they finish at the bottom of the division. It's looking like they'll be behind Texas in the standings — how crazy is that? The A's have broken off two of their most valuable parts by trading Dan Haren and Nick Swisher. They got five prospects in return for Haren (trading him at his peak value), and three back for Swisher (at a time when power hitters are few and far between). The A's won't have many guys on their '08 roster who are beyond their arbitration years. Matter of fact, they're now closer to Florida Marlins status than they are Minnesota Twins — if you want to compare small market teams.
So what does this mean? Much as it did a few years ago when Beane dealt Mulder and Hudson in the same off-season, the A's are clearly rebuilding. They're trying to stack their farm system with young guys who can all come up at the same time, making Oakland a competitive team in '09, '10, and '11. It's a harsh reality for fans to deal with, and a very fine line to walk. One of the major battles the A's are facing is timing. See, the A's can accurately project a player to develop into a superstar but it could go to waste. What I mean is that they don't just need stars, they need the players to become stars immediately — before they're eligible to make big money in arbitration and free agency. As if it's not challenging to build a team as is, the A's have to hope their low-salary, pre-free agency players develop early and all within the same two year span. If not, they're screwed, and they'll have to keep breaking off pieces until their players all develop simultaneously. What a crappy way to have to build a team.