Tiger Woods Got Owned by John Smoltz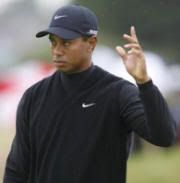 Maybe this can put a halt to all the talks about Tiger being the best athlete in the world. A few days after going golfing with a Braves threesome including Tom Glavine, Jeff Francoeur, and John Smoltz, Tiger decided to slip on a batting helmet and step into Smoltz's office. From the description of the event in the AJC, Smoltz more than handled Tiger, striking him out twice, walking him once, and letting up a grounder to second. There weren't any fielders out there so I guess you could call it a "hit," but pitching coach Roger McDowell said a second baseman would have made the play.
It's too bad Tiger didn't take a round of plain old BP off some schmo like McDowell to see what he could do with the ball. I guess it is impressive that Tiger could even work a walk against Smoltz, but I would have liked to read about line drives spraying around the yard. Don't get me wrong, Smoltz is one of the top pitchers in the game, but come on, can't say you're not disappointed by Tiger, right? Tell you one thing, he ain't no Michael Jordan. At least MJ batted .202.