Umpire Ejects John Lackey Two Pitches into First Start of the Season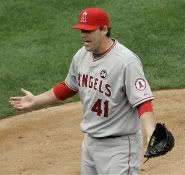 I'll be the first one to say that there's bad blood between the Angels and the Rangers. Heck, I'll go so far as to say that there isn't a team in the league I dislike more than Texas for that exact reason. With that being said, I still can't believe umpire Bob Davidson ejected John Lackey two pitches into his first start of the season on Saturday. Lackey, out the entire year because of a forearm injury, threw the first pitch behind leadoff batter Ian Kinsler. With the second pitch, Lackey nailed Kinsler in the ribs. No warning was issued, pissing off manager Mike Scioscia, and Lackey got tossed immediately. Lackey adamantly defends himself:
"I haven't pitched in six weeks, man. I was obviously trying to come in on him. I had no intention at all to hit him or to throw behind him or anything. I was definitely probably a little extra amped up the first time back out there. … I just launched a couple there.

I would tell you if I was going to do something. I would tell you if I did it. I would stand up and own it. I did not try to throw at him."
Lackey further defended himself, saying that he wouldn't be dumb enough to throw at the first batter of the game knowing how taxed the team's bullpen has been lately. That's reason enough for me to believe Lackey. Now the umpire defends himself with good reasoning, pointing out the recent history of brawls between the teams, not to mention the fact that Kinsler hit two home runs the previous game. Still, you have to be more aware of the situation — how is it beneficial for the Angels to get their starting pitcher ejected in the first inning? Who would intentionally do that? Davidson should apologize for his quick trigger and should have issued a warning first.