Vin Scully Extra Saucy on Telecast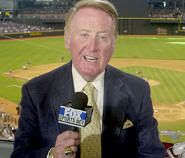 Dodgers announcer Vin Scully may be getting older and his time might be ticking, but he sure hasn't lost his edge. Sure, we've seen him express disgust by scolding the media and giving them a history lesson, but I don't remember Vinny getting off as good of a one-liner like the one he got off on Wednesday. As LBS contributor Danny tipped us, Scully was talking about Joe DiMaggio's 1941 season in which the Yankee Clipper had 621 plate appearances and struck out only 13 times while hitting .357. Vinny being Vinny related that to the Diamondbacks saying their third baseman, Mark Reynolds, strikes out that many times in batting practice. Ouch!
Reynolds of course led the majors in strikeouts each of the last two seasons, setting a Major League record with 223 last season, breaking his record set the previous year. If you thought Scully's sauciness ended with that remark, then you were wrong. Later in the game Casey Blake came up to the plate for his fourth at-bat in the top of the 8th. Blake had struck out every time up and proceeded to do the same against Aaron Heilman, giving him the Golden Sombrero. If you thought Scully would have words of encouragement for Blake and the fans, you were wrong. In a disgusted tone, Vinny said "What do you say to a guy who strikes out four times? Don't tell me 'hang in there.'" I don't know what got into Vin Scully on Wednesday night but I have to say I don't mind his acerbic tone — especially when it gives us this type of comedy.