What the **** Was Lou Thinking?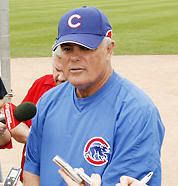 Let me go on record here: before the home run ball was served up, I was vehemently questioning why Lou Piniella, in the middle of a complete pitcher's duel, screwed with the rhythm of the game and yanked his starter. I just couldn't believe what he'd done. It was completely beyond me. There is no possible logic that justifies his decision. And for his stupidity, the Cubs could have to pay.
Even if they move on, I won't forget this call. They will have had to play longer in this series because of that poor decision. You simply cannot be thinking about Game 4 in a best of 5 series. That is just faulty logic. Thinking about Game 4 in the middle of Game 1 leaves you with your pants down, your pucker exposed for the opposing team to take aim with penetration. And that's exactly what the Diamondbacks did. Beating Brandon Webb could have ended the series right there. After that, who does Arizona throw, Doug Davis? Livan Hernandez? Micah Owings? Hardly an intimidating group. Taking out Brandon Webb would have all but squashed Arizona's chances, and it should have been to priority for the Cubs. You really telling me Lilly and Hill can't beat Livan and Davis? Please. Lou grossly mismanaged the situation, to the point that it makes me sick.
Should the Cubs lose this series, I would consider Lou's move nothing less than a fireable offense. I cannot believe he made that dumb of a move.