Jon Lester and Fluke No-Hitters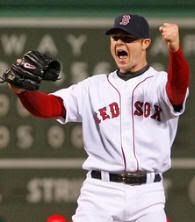 I feel as if I'm not allowed to say anything negative about the guy because he overcame cancer. I mean no ill-will towards Jon Lester, and I certainly respect him for having dealt with such a severe issue and making it to the major leagues where he's even won a Game 7 in the World Series. But I'll judge him like any other pitcher, because that's exactly what he is. And while throwing a no-hitter in the Majors is no small feat, I still don't think too highly of Lester's longterm prospects, though he clearly has the propensity to dominate in single games. So with that in mind, I would like to present some of the biggest fluke no-hitters in the history of the game. After all, in 10 years, I expect Lester's name to be on the list. Joe Sports Fan essentially did the same thing a month ago so I'm taking a lot of their work here.
Jose Jimenez – a career record of 24-44, he spent most of his short career as a reliever for the Rockies. Still, he was good enough to turn the trick for the Cardinals against the D-Backs in '99.
Bud Smith – One of the shortest shelf lives ever, Bud threw a no-no against the Padres for the Cardinals, and only managed to last one more year in the bigs. At least the Card parlayed him into Scott Rolen at the trade deadline.
Astros, Party of six – It's just strange to see such a good hitting team like the Yankees get no-hit by not just one pitcher, but a combination of six different arms including the likes of Peter Munro and Kirk Saarloos.
Hideo Nomo (at Coors) – In the middle of Coors' heyday and the Blake Street Bombers, Nomo did the unthinkable throwing a no-hitter for the Dodgers in Denver. Probably won't ever be done again. He proved it wasn't a fluke by throwing another one later in his career.
Anibal Sanchez – He threw one for the Marlins while I was having a fantasy football draft in September two years ago. While he certainly had good stuff, injuries have kept him down, and you probably won't remember this name in five years.
Jon Lester – Dominated a Royals team in '08, allowing just two base runners. In 10 years, he'll be just a note in Red Sox history. Or at least that's my guess.
There are plenty more on the list, so feel free to add one if you can think of it. And as rare as the accomplishment is in history, there's definitely proof that you don't have to be an exceptional pitcher to make it happen. You just have to be exceptional on one given day.