If You're the Yankees and You Can Do it, Why Wouldn't You?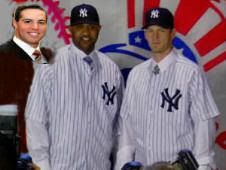 Before free agency began, in a pool with some friends, I had predicted the Yankees would sign CC Sabathia and Mark Teixeira. The reasoning? If they can do it, why not? While shedding payroll this offseason, the Yankees sure have stepped up and added on some serious contracts. Should they sign one or two more players before the season starts, the Yankees would be close to committing a half billion dollars to players in one off season. It's crazy when you think about that type of money. Then again, it's no surprise that the Yankees have thrown this much money around.
I joked a few months ago that Hank Steinbrenner wanted to file a grievance against the Brewers for abusing the arm of their guy (Sabathia had about four straight starts on three days of rest, throwing complete games mostly). I wasn't far off from the truth. With the way the team performed — missing out on the playoffs to the Rays and Red Sox — you knew they would spend wildly to make up for the embarrassment. They have not disappointed. Really, if they had just pulled the trigger on the Johan Santana trade last off-season and none of this would be happening. But they didn't, and this is the result. I really only think the Burnett contract was bad because I don't think he'll produce in the Bronx. Sabathia they may only wind up paying for three years if he opts out and you can't knock a team for locking up the top pitcher on the market. And if you have the cash for Teixeira, why not buy him? It's a leg up on the Red Sox and Angels, and he's a good ballplayer. I'd say signing Derek Lowe would cap off the incredible offseason for the Yanks.
Imagine how much fun it is to be Joe Girardi and to have all these new toys to play with for Christmas? The signings don't make the Yankees unbeatable but it makes them much tougher. Injuries can still easily do a number on them like last year and keep them out of the playoffs, but don't bet on it. Why not just sign another starting pitcher as an insurance policy? If you're the Yankees and you can do it, then why not?