Baron Davis Out Partying Night Before His Benching?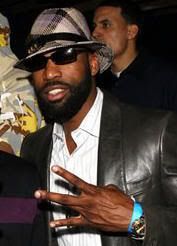 Much of the talk on sports shows on Tuesday revolved around Don Nelsons' benching of Baron Davis for the entire second half Monday night. With the Warriors' loss on Monday, Golden State was eliminated from the playoffs despite sporting a winning percentage just shy of .600. Baron shot 2-13 in the first half — a slump for which you'd think he'd be left in to work out. Not the case. So why exactly was Baron left on the pine the entire second half? Nobody knows. But thanks to Brett Edwards' research at FanHouse, we might have an idea why. From the Arizona Republic:
Golden State's Baron Davis was gone. He was benched for the second half by Warriors coach Don Nelson after a 2-for-13 first half and a Sunday night birthday party in the Valley.

"I gave Baron a much-needed rest in the second half," Nelson said.
Sure enough, checking Baron's player profile tells us that his birthday was in fact on Sunday — the 13th of April. While nobody outside of the people at Baron's party and inside the Golden State locker room can ever be certain about the situation, this sure fills in a few holes to the story. I honestly can't believe that players would be out partying like that the night before games of such momentous importance, but Baron's never struck me as a player with elevated levels of maturity. I hope this wasn't the case, at least for the sake of Warriors fans. It would be hard to forgive him if this were the case. Between Baron and Melo, looks like all you have to do to win in the NBA is stay sober.