Brandon Roy with a Heroic Performance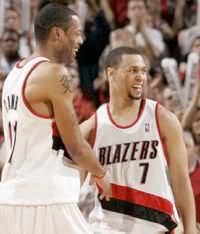 Portland Trail Blazers guard Brandon Roy is this week's Lava Tickets Hot Performer of the Week for his inspiring play over the weekend. When it was announced that Roy would need surgery to repair a partially torn meniscus in his knee, reports said he would miss 4-6 weeks. Later when Roy had surgery on Friday, April 16th, reports said he would be out two weeks and miss the first-round of the playoffs, putting the Blazers at a major disadvantage against the Suns. Even Phoenix took that news to heart and figured they could coast in the series until they got smacked in Game 1 and realized they needed to bring it. That loss served as a wake up call for the Suns who blasted Portland in Games 2 and 3, taking a 2-1 series lead.
Given the way the Suns blew out the Blazers those two playoff games, one figured the rest of the series would be easy. Not so much. Brandon Roy couldn't bare the idea of sitting on the sidelines for another game as his teammates lost a crucial playoff game so he begged and begged and begged Coach Nate McMillan to let him play in Game 4. McMillan got approval from GM Kevin Pritchard and owner Paul Allen to let Roy play, and Brandon entered the game to a roaring applause from the Portland crowd in the first quarter on Saturday night. Though Roy struggled to get to the basket the way he can when he's healthy, he contributed 10 points including two huge jumpers in the fourth quarter and he drastically altered the Suns' defensive gameplan. And guess what? The Trail Blazers beat the Suns 96-87 to even the series 2-2.
Brandon Roy has returned to the series for good, and in his words, "I didn't come back to have one good game, I came back to try to help this team win this series." Though the emotional lift he provided in Game 4 might not be there in Game 5, Roy's mere presence will be a huge help for the Blazers. I don't think they'll win the series but it's not for a lack of heart and effort on the part of #7. Returning eight days after knee surgery to help his team win a playoff game is incredible and legendary. I hope their success will continue.
For all your basketball tickets, check out Lava Tickets.
Sources:
Blazers-Suns: Roy returns to help Portland 'win this series' [Portland Oregonian]
Portland 96, Phoenix 87: Brandon Roy returns and the Blazers even the series [Portland Oregonian]
Photo Credit: Getty Images