Can We All Stop Loving LeBron Now?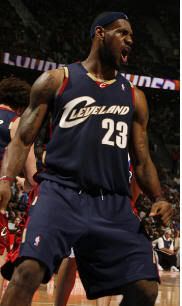 Ugh, the suck job going on about this guy is just maddening. The same people who tore LeBron to shreds are now blowing him like it's a competition with Lil' Kim. OK, so he put on a pretty legendary performance — went 1 on 5 to win it — but realize this, the Cavs still haven't won yet. Cleveland was in this exact same spot a year ago. Remember? They've been up on the Pistons 3-2 once before only to lose. He's only 22! He's amazing! He scored the last 25 points of the game! True, true, and true.
But if the Cavs lose two in a row, none of this will matter. People won't remember the amazing Game 5 performance. All everyone will do is criticize LeBron for not getting the job done. So let me remind you to take things one game at a time before setting the crown upon the King's head. Dirk and the Mavs beat the Spurs on the road in Game 7 last year, and were up on the Heat 2-0 in the finals. And now how is Dirk classified? As a playoff choke. Feel my drift? So let me just advise everyone to slow their roll. Wait til the Cavs are in the final to begin the suck job.
At least we can agree on something — finally we got an on-court performance to take our minds off peripheral issues e.g. Kobe Bryant.
Some blogs to check out for their recap of LeBron's impressive performance: