Who's Dressing Melo These Days?
By Larry Brown April 20, 2009 - Posted in
Basketball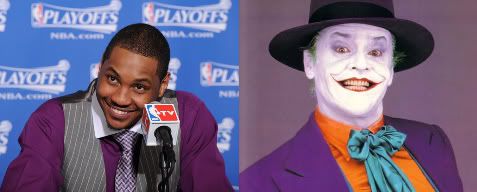 Usually I don't like to comment on the personal appearance of an athlete, but for premeditated clothing choices, I feel I can make an exception. I know Carmelo Anthony has cultivated a new look this year cutting off his braids, but seriously, who's the brains behind the joker outfit on Sunday night? Apologies to any LBS readers that sport purple dress shirts and purple ties under vests, but Melo's gotta do better than that. He's even worse than Joakim Noah in the Problem Child bow tie outfit. I sure hope it's not Lala dressing him.
Google+
Tagged with:
Carmelo Anthony
***Get the Full LBS Experience on our twitter page***