Dirk Deserves the MVP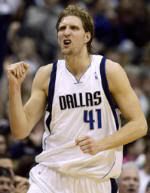 It seems pretty simple to me — Dirk was the best player on the best team in a year where no other individual had as good a year for a team that came close to performing as well as the Mavericks. That's why the report from ESPN's Marc Stein that Dirk won the MVP award does not shock me. The voting occurs before the playoffs begin meaning whatever happens after the regular season — the important stuff — is insignificant. This is something Shaq should know well, as he bitched about Steve Nash winning back-to-back MVPs instead of him. I've always felt that Shaq has the real prize — the rings — and he'll have the last laugh. Given a choice to Nash and Dirk, I guarantee you they'd prefer an NBA Championship.
But will Dirk and the Mavericks' choke job keep them from winning future awards? Have they become their own worst enemies? After posting such an excellent regular season mark, going 67-15 to lead the NBA, there's nothing they can possibly do that will change the public and the media's view of them. They could go 72-10 next year, and there still will be people questioning if Avery Johnson deserves coach of the year, Dirk MVP (assuming he plays just as well as last year), and whether or not they should have three All-Stars. I know one thing. I will not let the poor performance of the Mavs in the playoffs cloud my judgment; they had a fantastic regular season, and Dirk firmly established himself as the leader of the best regular season team in the NBA. And that's what this award is based on — the regular season.