Gilbert Arenas Makes the Game-Winner This Time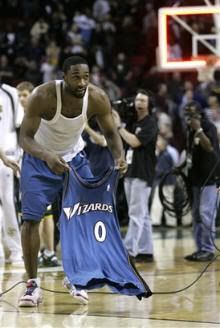 I guess lesson to be learned — don't give Gilbert a second chance. Yesterday I was pretty harsh on Agent Zero for totally airballing his floater attempt to tie the game against Portland. I mean literally, that shot couldn't even qualify as an alley-oop pass it was so far off.But last night in Seattle, Gilbert redeemed himself — somewhat. As part of a 42 point night, Arenas banked in a runner at the buzzer to give the Wizards a 108-106 win over the SuperSonics. Amidst the excitement, Gilbert must have forgotten which city he was in:
And as he jogged off the court, Arenas dropped his jersey at the free throw line, hoping a mob of fans would rush the floor trying to snatch the blue uniform.

"Maybe it would be better to do that at home," Arenas said.
Hey Gil, if this were LA, I would've been all over it. People must note that as a tradition, Gilbert gives his jersey away to a different fan in the stands following every game, so it's not like he was showboating in a T.O. stomping on the Dallas star type of way (which is to whom/what Skip Bayless just compared Gilbert). I digress.
One tiny detail needs to be noted here, the Wizards were TIED with the Sonics when Arenas sunk the game-winner. Against Portland, the Wizards were LOSING by two. Not only did Gilbert opt for the game-tying two-pointer as opposed to a game-winning three-pointer in that situation, but he also missed the closer shot.
Most of Gilbert's great moments have come with the game tied when there was less pressure on him. I still want to see him make the big shot when it means his team will lose otherwise. If he can't do that, then the Wizards won't win in the playoffs, and Gilbert won't be classified along with the "greats" of the game.