Gilbert, Come to the Clippers in '08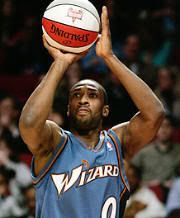 This is kinda like bad news for one team, and really good for 29 others. Thanks to Ballhype, I was directed to Sunday's Washington Post where Wizards PG, and all-around badass, Gilbert Arenas, said that he would opt out of his contract in '08. This is major news. Gil signed a six-year deal in 2003 for $65 million, and if he does have the opportunity to opt out, then why shouldn't he? Here's how the future prospects break down:
According to the collective bargaining agreement, the most the Wizards could offer Arenas this summer is a three-year extension worth between $60 million and $70 million, but the deal wouldn't kick in until his original contract expires following the 2008-09 season.

Once he opts out, Arenas would be eligible to sign a maximum contract covering six years and worth between $90 and $100 million, depending on the salary cap. The Wizards will have an advantage however, because other teams would be able to offer him only up to five years.
Alright, time to get the teams lined up as far as who could use him! Gil's ultimate decision in 2003 came down to the Wizards and Clippers. What are the chances he could end up signing with LA ultimately? I think it's a possibility. Certainly there will be many more teams angling for Gilbert's services this time around. Suitors, start your tampering!