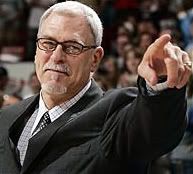 Last week the LA Lakers won their second consecutive NBA Championship. The win gave Phil Jackson his 11th title as a head coach and already had Kobe Bryant thinking Jackson would retire. Jackson, who is 64, said that his mind might be made up about whether or not he will return to coach the Lakers next season, which is something he's been hinting at since last January. Jackson said on Wednesday, "I'm leaning towards retiring but I have not made up my mind."
So should Jackson retire or try for the three-peat? Honestly, it all comes down to his health. I think if Jackson is healthy enough he will come back and give it a shot at ending his career with his third three-peat of championships. Then again, there's no guarantee that the Lakers will win again next year, so maybe ending on a high note is the best move.
There's really no point for Jackson to come back if he isn't healthy. Coaching isn't an easy job, even if you are Phil Jackson, and it would just cause unneeded stress for him. Plus, he could get sick during the season and thus be unable to coach anyways.
I say it's time for him to retire. He's had an amazing career and why not end it on the high note of a Lakers championship? 11 titles is no easy feat and I don't think that anyone in the league could blame him if he decided that this was his last year.
Sources:
Jackson 'leaning towards retiring' [ESPN]
Google+