Jason Kidd Has Serious Handles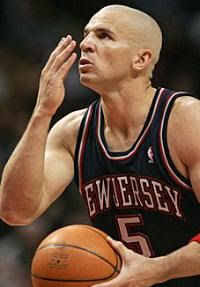 The dude's a walking triple-double, but you already knew that. Mad handles, great defense, outstanding rebounder — he can turn your squad into an instant playoff team with his talents. One more thing about Kidd. I'll bet you had no idea about his handles off the court as well, allegedly. Some wannabe model chick is claiming Kidd groped her at a club. From the report:
The woman told cops New Jersey Nets guard Jason Kidd groped her crotch at a Manhattan club on Oct. 10 and then grabbed her a second time when she complained, a police source said.
…
The complaint says Kidd was partying at club Tenjune on Little West 12th St. when he walked up to the woman and grabbed her crotch at about 2:30 a.m., a police source said.

The woman said she and Kidd got into an argument and he grabbed her a second time, the source said. Bouncers broke up the spat. Kidd was not ejected from the club, the source said.
Well sheed, if you can't grab a woman's privates in a club, what the hell can you do these days? I mean seriously, what do they expect when they serve Bacardi 151 at bars? I'm with Kidd on this one, even if it didn't happen. Chick's probably just pissed off because she's a she-male and he wound up getting a handful of the double-bubble, busting her cover. Come on, like hands have never been down there before? What's the big deal?
(via Fark)