Can Bulls Backup Joakim Noah's Words?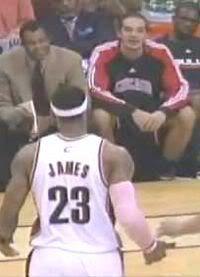 The NBA playoffs will officially get underway Saturday night for the Chicago Bulls and the Cleveland Cavaliers. Like any anticipated matchup, there needs to be a little trash talking and cockiness floating around before things get settled on the court. In this case, the trash talking is coming from Bulls big man, Joakim Noah. That's no surprise given the tension that exists between Noah and LeBron dating back to December. Even as recently as last week, Noah called LeBron "the enemy." The question is, can the Bulls really back it up?
I don't really believe that the Bulls should even be in the playoffs to begin with; I think the system is broken. But OK good for them — they clung on to that eighth playoff spot for dear life and now they are going to face The King himself — LeBron James — and an amazing Cavs team. Noah said that he is proud of how his team has played and how hard they fought to get to the playoffs. He also believes that they have a legitimate shot to get past Cleveland, "We're trying to shock the world," Noah has said. It would stun the world if the Bulls could pull this thing off. It would be a miracle in my eyes if a team that just finished at .500 defeats the best team in the NBA in a seven-game series. But LeBron wants Noah to know that they are not going to be playing the same team they have seen all year. He said in response to Noah:
"We're ready for the challenge. I think Noah's a really good player. He's a really good talent. But, you know, he asked for us a couple weeks ago and he got us. So we're ready. It's a different monster they're going to be playing against on Saturday."
Although the odds are clearly with the Cavs for the series, there's plenty of reasons to believe this matchup will be interesting. The King wants to make sure his team brings a championship to Cleveland, whereas Noah and the Bulls want to prove that they are better than everyone thinks they are. I just have to ask, Can Joakim "The Noble One" Noah really slay "The King" LeBron James? It's the NBA Playoffs where anything can happen.
Sources:
Bulls' Noah: "We're trying to shock the world" [Chicago Breaking Sports]
LeBron: Bulls to face 'different monster' [ESPN]