Josh Howard Partying During Playoffs?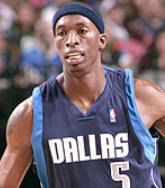 It was only two weeks ago that I wrote about Baron Davis reportedly being out partying the night before the Warriors' last game of the season — a must-win they lost to Phoenix that eliminated them from the playoffs. And today it disappoints me to write about the report from the Dallas area that Josh Howard was partying in between important games as well.
After a loss in Game 4 on Sunday, Howard passed out fliers in the locker room inviting teammates to celebrate his 28th birthday at a Dallas nightclub, a source said. The Mavs were down, 3-1, in the best-of-7 series.

Only a few players attended, the source said. But Avery Johnson confronted the players about the party the next day and canceled practice. The players decided to practice without the coaching staff.

The birthday party situation came two days after Howard went on a local radio show and discussed his off-season marijuana use.
Dude, what is this guy's deal? Why volunteer to the media that you smoke weed in the offseason? That only makes people question your dedication, it doesn't give you cool points. And then partying in the middle of the playoffs? After a loss no less? Are you kidding me? Do these guys not have any discipline? Seems to me like you can't blame Avery Johnson and Dirk for this (though Avery was pardoned from his role as head coach). It's about Josh Howard shooting a horrendous 29% from the field as the team's second scoring option, caring more about partying than preparing for these games. Clearly Avery wanted to win. Kind of hard to do so when some of your players care less about it than you do. I don't think this means Avery lost his team, I just think it means Howard's immature, and now some team is going to get a really good coach because of it. And maybe the Mavs need to think about getting a different number two scorer who has his priorities in order.