Kobe Bryant to Win MVP? Deserves it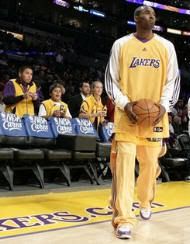 Mike Bresnahan at the LA Times says sources told him Kobe Bryant will be presented with the MVP trophy next week in Los Angeles, answering one of the most popular questions of the year. I'm sure some praise of Kobe is about the last thing you ever expected out of me, but I am even-handed enough to recognize reality. First off, I'm not buying the argument that Kobe "deserves" to finally win one after being shut out all these years. If another player is more valuable, than he should win the award. It shouldn't be a lifetime achievement award. Take Chris Paul for instance: between points and assists, Paul accounts for the most points of any individual in the league, and he led a moribund Hornets team to the second seed in the Conference. I could make an excellent case for CP3 as MVP and it wouldn't be wrong if he won it. But Kobe Bryant nearly matched Paul's production, yet Kobe I believe did it with an inferior supporting cast (until Pau came along).
If you were reading LBS waaaay back in the day, you might remember in February of 2007 when I incorrectly predicted the Hornets would surge into the playoffs. I made that prediction anticipating a healthy Hornets team, when they actually went back to being injured. The bottom line is that I recognized a long time ago New Orleans was a very talented team that was only slowed by injuries. That reality became clear this year. But the Lakers have a collection of what I deem to be garbage-type players like Luke Walton, Kwame Brown, Jordan Farmar, and Vlad Radmonivic. Before the ridiculous Pau trade, I couldn't believe my eyes when I saw the Lakers winning games against playoff teams like Phoenix, Utah, Houston, Denver, and New Orleans, some of which even came on the road. Obviously Andrew Bynum had developed into a powerful big man, Lamar Odom was a quality option since he was healthy, and the addition of Derek Fisher was crucial, but still, the team they were trotting out there pre-Gasol didn't strike me as any too good.
Maybe I've erred because I've underestimated the Lakers as a whole, primarily their bench. But I think Kobe deserves the MVP because he had the Lakers as one of the top teams in the Western Conference even before they acquired Pau, and to me, that was quite impressive. And once they did acquire Pau, they surged to the top of the standings as they rightfully should have, proving they maximized their talents which is no easy feat. Sure Kobe has flaws in his game and he is an incredibly unlikable, phony, childish, and sickening person, but he is an excellent player and he deserved to win the MVP award this year.