Kobe Not Willing to Take Pay Cut to Keep Lakers Together?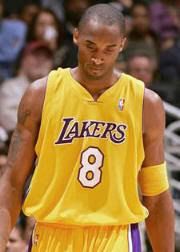 Not long ago I was raving about Gilbert Arenas volunteering to take a pay cut to keep the current Wizards together. How much more clear can you make it that you prioritize winning over money than by volunteering to take a pay cut? That's truly putting your money where your mouth is, or something like that. Anyway, I heard about some comments Kobe made regarding this very subject on KLAC recently. Here's what he was asked and here was his response:
Hartman: [Mychal Thompson] said that you would accept less money in order to ensure that you keep all the pieces in place so all these great young players can stay with the team. Is that going to be a consideration when you do get a new deal, that everyone stays aboard so this team can stay together?

Kobe: That's Mitch [Kupchak]'s responsibility to make sure the team stays together. For me, what I have to do is show up as a player and play the game. One thing that I learned throughout the season is that Mitch might make a million bad decisions, but then he made two great ones this season. Honestly I just lay off of him, he's done a tremendous job with this team.
So when the pressure was put on him, Kobe quickly deflected and put everything on Mitch Kupchak. Hmm, Kobe passing the buck to Mitch? Why does that sound so familiar? I thought it was quite interesting that Kobe had the opportunity to say he's willing to take a pay cut to keep this team together but he wouldn't volunteer publicly to do so. Then again this is the same guy who couldn't get along with Shaq forcing the Lakers to break up what could have been one of the NBA's great dynasties. Why would we expect him to volunteer to sacrifice a paycheck to win?