LeBron: Good Teammate, Bad Father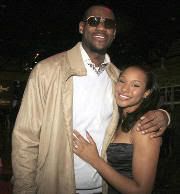 LeBron James was interviewed by Rachel Nichols for the ESPN Sunday Conversation. In the interview, he revealed the news that he would not miss an NBA Finals game for the birth of his child. As Marcel Mutoni points out at FanHouse, the baby is due when Game 5 is scheduled. Don't fret Cavs fans, here's what LeBron said:
I've already told her I'm not missing any games. I'm not missing any games because of the birth of my second child. I was there for my first one. Definitely going to be tough on me but I think she understands how much I love my teammates and how much they mean.
So is LeBron taking the birth of his child lightly here? He seems quite dismissive of the significance of the milestone in his life and his child's. Look at what he said, he was there for one, doesn't need to be there for the other. What kind of a message is that? Then again, it is the NBA finals, and he's choosing not to let his teammates down. Clearly he's a good teammate and bad father. This is a tough call for a man, and I stand by LeBron for his choice — he owes it to himself and his team. What do you think?