LeBron James' Elbow Is a Real Problem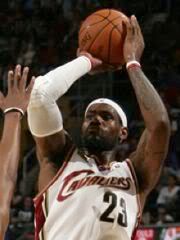 One of the most scrutinized body parts in the NBA since Shaq's toe has been LeBron James' elbow. The right elbow has been bothering him for some time (perhaps why he rested the end of the regular season?) and it bothered him so badly he shot a free throw left-handed at the end of Game 5 Wednesday against the Celtics. An MRI on the elbow recently revealed a strain and a bone bruise. James still practiced with his team leading up to their Eastern Conference Semifinals series with the Celtics and participated in shootaround prior to Game 1. The lingering issue leading into this series was the status of LeBron James' elbow and it seems to be manifesting itself as a major problem for the Cavaliers.
In the first half of Game 1 against Boston, LeBron only took two outside jumpers and one was an emergency heave as the shot clock was expiring. He went an entire quarter and a half before shooting a jumper. That span includes a moment where an offensive rebound went right into his hands and he had a wide open look just in front of the free throw line. Nobody was around him yet LeBron didn't even look to shoot. LeBron got to the basket like usual and seemed to go left and try and finish with his left hand most of the first quarter. That seemed to be a non-issue as LeBron drove and finished more with his right hand in the second quarter. James was also 6-7 at the free throw line shooting all of them right handed, but the bottom line is he was shy about taking jumpers.
Although LeBron's outside shooting seemed to the lone weakness in LeBron's game, it still is a weapon that he has and needs to utilize. He doesn't seem to have it and it's hurting the Cavaliers (not to mention their inability to guard Rajon Rondo).
UPDATE: LeBron began taking outside shots with regularity in the second half and helped the Cavs win Game 1. Maybe he got some treatment on it at halftime because he showed it wasn't a problem during his stellar second half performance.
Photo Credit: Getty Images