Minnesota Would Not Trade Garnett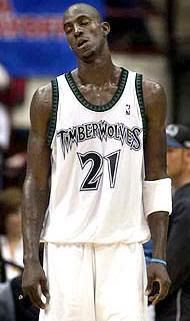 It's been a popular rumor for years, and something Tom Ziller raises at FanHouse based on a Chad Ford report. Kevin Garnett is apparently available, if you believe several Eastern Conference GMs. Of course said GMs would love to have Garnett available. What better way of trying to pry a superstar loose than by starting a rumor? Besides, most trade possibilities are floated to the public anyways to gauge fan reception. You can sense my obvious skepticism.
Garnett has been a hot name on the trade market for years, and to my knowledge, nothing has happened yet. Why not? Because the T-Wolves aren't concerned about increasing Garnett's chances of winning a championship. They're concerned about running a successful business, staying true to the economical model. People scoffed when Kevin McHale was named as the best GM in sports by Forbes Magazine. The reason he was named the top GM is because he led a large turnaround by the franchise (remember how bad they used to be?), and because they run a successful business. Just because everyone around the league wants to free Kevin Garnett doesn't mean the T-Wolves are willing and eager to. You know what I mean? Kevin Garnett isn't going anywhere, at least, not until his existing contract expires.