Guess We Know How Monta Ellis Spent His Time Off
UPDATE: Many more Monta Ellis tattoo pics below
I was pretty excited to watch the Cavs/Warriors game Friday night for several reasons. For one, the back end of the ESPN Friday night double-header was the Winter X Games. Secondly, the Clippers/Thunder were the only opposite game on the West Coast. Third, any game in which LeBron is playing is interesting. And lastly, the game marked the return of Monta Ellis. Monta really impressed me last year as he emerged to average over 20ppg in only his third year in the league. Most of all, it's the youngster's quickness that separates him from the competition. As a restricted free agent, the Warriors signed him to a big deal, and he went out and celebrated by hurting his ankle in a moped incident. In addition to rehabbing the past several months, it seems pretty clear what else was taking up Ellis' time — the tattoo chair:
Pre-2008 and 2008 Tattoos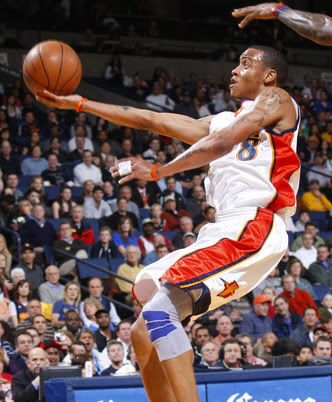 2009 MONTA ELLIS TATTOOS
It was hard to tell all the ink he added from that picture, but that's the best I could find. He has em all up and down both arms, on his chest, and his legs. Not to predict the future or anything, but wasn't it when Josh Hamilton was hurt that he got all tatted out? As for the actual game Ellis did handle the ball going up the court on most possessions, but the Warriors really ran their offense through Stephen Jackson all night. Jax was great down the stretch knocking down a pair of jumpers over LeBron to give the Warriors the lead both times, but LeBron hit the game-winner over Turiaf as time expired. It will be interesting to see the Golden State offense operate when Jamal Crawford joins Ellis in the back court (Crawford was a late scratch). Still shouldn't change the outcome of many of their games but they have a weird combination going on.