If Brutal Bulls Have a Shot at the Playoffs Then the System Is Broken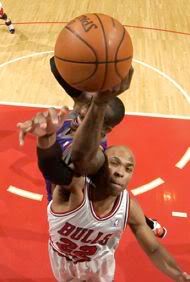 The Phoneix Suns clinched a spot in the playoffs Tuesday night with a win over the Chicago Bulls. This was a heartbreaking loss for the Bulls as it pushes them a game and a half out of the NBA playoffs. Although the Bulls have been playing OK lately, it still grinds my gears that the possibility of them making the playoffs exists.
Now don't get me wrong, I am not directing all my anger at the Bulls; I want to direct it at the NBA. We've frequently complained about the NBA playoff seeding system and asked why they don't re-seed teams. Additionally, how does a system exist that allows a team like the Bulls who are under .500 with 35-39 record to have a chance at winning an NBA title? Why should they be able to make the playoffs? Frankly, I don't think they have deserved it. The loss of Joakim Noah for most of the season certainly has hurt the team and they haven't seemed to be able to get a good rhythm going. So please tell me why they should make the playoffs?
Contrarily, the Suns are quite deserving of their playoff spot given their 48-26 record. I think the NBA really needs to revise the playoff system including the amount of teams allowed to participate in the postseason. The way it stands, if a team like the Bulls with that crappy record has a chance at the playoffs then something is wrong with the system.
Sources:
Bulls playoff hopes on fumes now [ChicagoNow.com]