Pat Riley Wants to Reimburse Heat Fans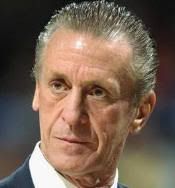 I've already chronicled the mess going on in Miami this season, so this news shouldn't be much of a surprise. Pat Riley is so embarrassed and disgusted by his team's play that he made some hyperbolic comments following the loss to Toronto at the Triple A Wednesday night:
"Just a lack of effort and a horrible attitude, the attitude they showed, I should write a check to each season-ticket holder. I should write the check and not even them, because I can't get them to play hard."
…
"The season's over for them, that's how they're playing, some of them," he said, stopping short of naming names. "There's just an apathetic approach of ours. It's so unprofessional, it's ridiculous."
Well, that tends to happen when you're losing. Too bad he didn't name names — that would've been pretty spectacular. This marks the second time recently where Riles gave us a great nugget after a game. Last time it was following a win. This time his reaction was following a loss. A bad one at that. Suffice it to say that the season can't end quick enough for the Heat. I would be quite surprised to see Riley back after the year and let the team ruin his legacy and ego — this season has become a royal mess for them. Don't they still have that Dwyane Wade fella?