Pistons Finally Got the Picture, Started Rip Hamilton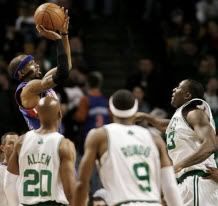 Man, a lot happened in just like two days. Michael Curry finally announced (about effing time!) that Allen Iverson would be coming off the bench and that Rip Hamilton would finally be back in the starting lineup (after Hamilton initiated the movement). I guess all it took was an eight-game losing streak for them to figure things out. I'm surprised it didn't take them dropping out of the playoffs first. Whatev. Finally someone got the picture, made the change, and now everything is right in the world.
The Pistons beat the Magic in Orlando and the Celtics in Boston their last two games. Both with A.I. out with back stiffness and Rip back in the starting lineup. Coincidence much? I think not. The Pistons are clearly better without Iverson anywhere near the court, as weird as that sounds. Oddly enough, it's not even that shocking — my boy Matt Watson who runs detroitbadboys.com said as much to me a few weeks ago before the Pistons completely went into the tank. As Watson pointed out, Iverson may have faked the injury to get away from the team for a few days so he wouldn't have to answer questions about his demotion.
Even though we anoint stars on a regular basis, sometimes teams are better-served devoid of big names. Aside from Detroit, the Rockets went on a six-game winning streak as soon as T-Mac announced he was shutting it down for the season. The Bucks continue to fight hard and win now that Charlie Villanueva and Richard Jefferson are the focal point of their offense instead of Michael Redd and Andrew Bogut. Shaq's picked it up with Amare Stoudemire out. Ditto with Lamar Odom and Andrew Bynum. Funny the way things work. Even the Celtics will tell you how much better the Pistons were without Iverson — a former MVP. They're better off without him near the starting lineup without a doubt.