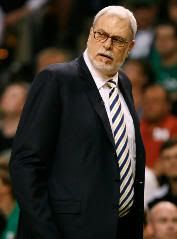 Another significant playoff game gone by, another critical performance by the referees. I didn't have the sound on while watching the game so I have no idea what was and wasn't said by the commentary team, but there was no question that the boxscore painted a clear picture of free throw disparity between the two teams. Now let's not make a mistake about things here — we heard a similar argument all throughout the playoffs. Wasn't the same thing said about the Lakers/Jazz series? Wasn't there a no-call on Derek Fisher against Brent Barry in the Conference Finals? The home team usually gets the calls in the playoffs it's said, and Game 2 would fit in with that idea. Just ask Lakers coach Phil Jackson:
"I'm more struck by the fact that Leon Powe gets more foul shots than our whole team does in (Powe's) 14 minutes of play," Jackson said, even mispronouncing the Celtic forward's name to add insult to his 13-10 free throw edge. "That's ridiculous.

"You can't play from a deficit like that; that we had in that half, 19-2 in the first half. I've never seen a game like that in all these years I've coached in the Finals. Unbelievable."
One thing I would say is that there's an inherent problem with analyzing the final free throw margin. Usually the team that's ahead in the 4th quarter will wind up shooting 10 more free throws in the game just over the last few minutes, and the home team is typically ahead. So is it the home team getting the calls, or is it home court that perpetuates this situation? I think the 19-2 figure tells us the answer — the calls were unbalanced in this case. Here's another thing: most people and media members are quick to act after seeing one side of a series. You can't react or judge a series until you've seen each team play at home. When the Celtics are getting blown out by 20 points in Games 3 and 4, which is bound to happen, it will be a different tone. One thing that won't change however, is that the Celtics have home court advantage. Maybe those four at the Garden will make the difference. We'll wait and see.
Google+