Sportadox: Did the Warriors Steal the Series or did the Mavericks Blow it?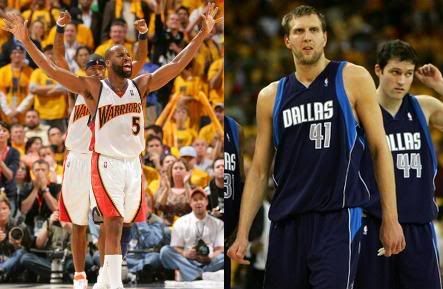 In case you are unfamiliar with the sportadox, check out the definition here before you proceed. Because in a great sporting event such as the six game series between the Mavericks and Warriors, surely just the sound of the Golden St. Warriors beating the top-seeded Dallas Mavericks holds a paradox. Therefore the question must be asked: did the Warriors steal the series, or did the Mavericks give it away?
In support of the Warriors winning the series, Golden St. had Dallas' number all season long. They beat the Mavs three times during the regular season, and four more in the post-season. Baron Davis was a man-child in the series, averaging 25ppg while shooting an incredible 54% from the field. Stephen Jackson was unconscious nailing over 3 3ptrs per game, including 19 of 40 for the series, good for 48% beyond the arc — wow. Action Jackson also caused a raucous defensively, grabbing 12 steals in the 6 games, including three in game six, and four in game five. The Warriors put up 105ppg in the playoffs, which was second to the Phoenix Suns, and they shot 46.4% from the field. So did they just have a hot series, or are they that good? And did they force Dallas to play poorly, or were the Mavs just off?
Dallas had the second most rebounds per game of any playoff team — presumably because they were grabbing their own offensive misses, 14 of those per game. They didn't turn the ball over at an alarming rate, shot a not-too-horrible 42% from the field as a team, and they were 77% from the line. Pointing the finger at Dirk is about the only way to go here. The MVP candidate went 38% from the field (compared to 50% during the regular season), and he shot a pathetics 21% from beyond the arc (compared to 42% during the regular season). I think it's safe to say the Mavericks lost the series because their big horse failed to carry them farther.
So now that I've established that Dirk was the big time goat in the series, was it because of the Warriors play, or him having an off-series that the Mavs lost? I think it's a combination of the Warriors small lineup that disturbed Dirk's concentration and rhythm, along with Golden St.'s fast-paced, three-point run-and-gun style offense that allowed the Warriors to steal the series from Dallas. It's highly plausible that the Mavericks would have won the NBA championship had their road to the finals not crossed the Golden St. path. As for Golden St., don't get too excited, you won't sustain this level of play too much longer.