Did the T-Wolves Get This One Right?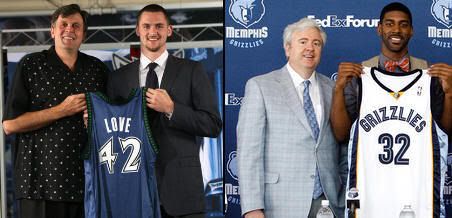 Two years ago they made the mistake of shipping out Brandon Roy before he had ever played a game for them. They got back Randy Foye. Exactly. So when the Timberwolves took O.J. Mayo with the third pick, as we predicted here at LBS, I wasn't too surprised. I just really couldn't figure out what Minnesota's plan was; they have just a group of players that play the same position, hardly a way to build a team. Well, they at least made a move that makes more sense for the team-building concept, but they might have Minnesota Timberwolves ticket holders holding their collective breath once again. The T-Wolves traded O.J. Mayo along with Antoine Walker, Greg Buckner, and Marco Jaric to the Grizzlies for Kevin Love, Mike Miller, Brian Cardinal, and Jason Collins. In essence, the T-Wolves and Grizz swapped draft picks and bad contracts, but Minnesota probably got the best player (not counting Love or Mayo) in Miller.
Like I said, I couldn't understand why Minnesota drafted Mayo in the first place based on the structure of their team — Randy Foye, Rashad McCants, and Corey Brewer (three of their recent picks) play essentially the same position. Now it makes more sense since they leveraged their position into getting Mike Miller along with Love, whom they may have wanted all along. While I still don't like the Timberwolves roster, the move makes more sense. As for Memphis, I still don't like their team, but I think O.J. Mayo will sell more Memphis Grizzlies tickets than Love would have, which given their trade of Pau, is probably all they care about. Both teams may have had top five picks, but I still don't see either team coming anywhere close to the playoffs.
The team that I think will improve the most from last year to this year will be the Heat. I like Michael Beasley a lot as an offensive player (I'm still suspect on his defense). Adding him plus having Dwyane Wade healthy and playing a full season will mean a lot more wins than last year. Yes, I realize it would be hard not to improve when you only won 15 games last year, but I'm talking an improvement where I see them returning to the playoffs and revitalizing the interest in South Beach. Maybe no longer will Pat Riley say they need to refund the fans buying Miami Heat tickets after their pathetic performances last year. I expect a big turnaround.