It's pretty hard to go 13-3, get the top seed in your conference playoffs, and still get fired after the year. Then again, you can go 14-2, get the top seed, and still get fired if your name is Marty Schottenheimer. But getting back to the point, it's quite possible that Wade Phillips could be out of Dallas despite having a fantastic season. If you remember correctly, Jerry Jones signed Jason Garrett on to be the offensive coordinator in Dallas before the head coach was named — quite a caveat for a coach trying to set up his staff. Clearly Jones was committed to Garrett. After seeing the Cowboys offense explode for most of the season only to tank in the first round of the playoffs, the question must be asked: will Wade Phillips be retained or blown out to make room for Garrett?
The Baltimore Ravens are apparently hot on the case for Garrett, having supposedly interviewed him a second time. Garrett could be a year or so away from being completely ready to assume a head coaching position but he might be tempted to take a job now. Much like Pete Carroll, Garrett is a commodity in demand so I would suggest he choose carefully and act picky. He has a tremendous amount of leverage and could probably be a head coach in the league by next year if he wanted to. That puts Jerry Jones in a difficult spot — fire the coach that just went 13-3 to make room for Garrett, let Garrett go, or try to talk Garrett into staying another year? My guess is Phillips could be a victim of circumstance, having sealed his fate by losing the playoff game. Jones won't let Garrett get away — at least not over his dead body. This could be a huge shakeup in Dallas … stay tuned.
The great Unsilent Majority of Kissing Suzy Kolber has already slammed the Mannings for this one. In case you missed it, Eli and Peyton have joined the Double Stuff Oreo Racing League or something like that. I just know that anything with the name "double stuff" in it is somewhat sketchy. Guess they didn't learn from Carson Palmer's hot dog commercial. Anyway, check out the commercial the two were recently in:
You know, I have to say I really like the ESPN commercial of the brothers taking a family tour of the joint — that was cool. And the Peyton Manning "cut that meat" commercial was pretty good too. But come on, at some point you have to put the foot down and say "no," don't you? I would think so. Especially if they're going to be running after your team has already been eliminated from the playoffs.
I was asked the question Sunday evening and had a difficult time answering it: What do you make of Terrell Owens crying in the post game press conference Sunday following Dallas' loss to the Giants? It's so hard to say. I really am inclined to believe that T.O. was crying for real, no acting there. The guy works his ass off, he bounced back from injury, and his team was set to reach the Super Bowl. There's no doubt that he was met with utter disappointment following the loss, not to mention shock. And maybe for once he was in another person's shoes, having to defend a teammate from the media. Maybe T.O. has been superseded by a larger star in Dallas and his response is genuine. All I know is that I don't see too many athletes cry after losses and I fell for it. I'm a sucker and I bought it. I saw how hard T.O. and Romo worked from the looks in their eyes and I truly felt badly for them.
(video from The 700 Level via Ballhype)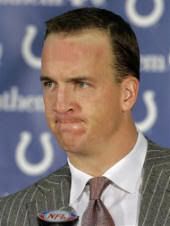 It might be difficult at first to ignore Peyton's gaudy statistics; 402 yards and three touchdowns is nothing to sneeze at. But even with those big numbers there is something you can't forget: Peyton Manning threw two interceptions — both in Charger territory — costing his team points and drastically changing the game. The first pick was off a tipped ball so it's hard to go crazy blaming Peyton for that. The second interception came when the Colts were inside the San Diego five and went the other way for six if it weren't called back by a penalty. No doubt the Colts missed those extra points they left on the board.
Perhaps the most telling sign that Peyton reverted to his former, big-game choking self, is that he was a dismal 1/7 in his last seven passes of the game. At that time, the Colts were down four and needed a touchdown to take the lead. Indy was first and goal with just over two minutes left when Peyton missed on 2nd, 3rd, and 4th and goal. Thanks to his defense and the ineffective Billy Volek, the Colts got the ball back with 1:30 at their 32 looking to win it. Peyton completed the first pass to Addai for five yards, then missed on 2nd, 3rd, and 4th downs, turning the ball and game over to San Diego. Just like that, the 400 yards, three touchdowns, 4,000 regular season yards and 31 regular season TDs seemed meaningless. When it mattered the most, Peyton Manning could not lead the game-winning drive. We may now repeat it — typical Peyton Manning in a big game.
(Photo courtesy Darron Cummings/AP)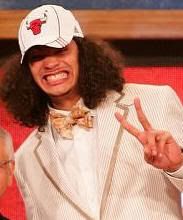 Back when those Florida Gators teams were busy dominating UCLA in the Final Four, I always thought Al Horford was the best player on their squad. That sentiment seems to be validated by the performance of all the Florida players in the pros thus far. One thing I will admit however, was that I never expected Joakim Noah to present this much of a problem in the NBA. This has actually been going on all season long for Joakim. If you remember a few months back I told you about Joakim screwing up on his rookie donut duty. Then after his first game, Joakim criticized his team's effort and was muzzled by then head coach Scott Skiles. And now The People's Princess has been benched for at least a game, as decided by his teammates. As you could imagine, Noah is not happy about it:
"They just told me what I did was unacceptable and I'm just going to move on from here," Noah said. "I've just got to accept it. What do you want me to say? I've just got to move on. There's nothing I can do about it."

When asked if he believes the two-game suspension is too severe, Noah said "Ask the players who made the decision. I don't know. … Do I agree with it? It doesn't make a difference. I respect my teammates."
Somehow I don't think the proper response to being benched by your teammates is not "It doesn't make a difference." I'm not sure what the deal is with Joakim, but he's starting to become more of The People's Starbury than he is a princess. You better believe he'll be out of Chicago soon as his contract is up. Can you say bust?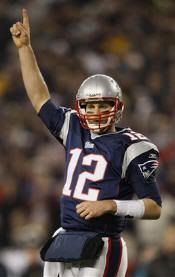 Just in case you were on a hot date Saturday night and missed the game, the Pats remained perfect on the year going to 17-0. Almost as impressive as their season record was Tom Brady's performance. The QB went 26 of 28 count 'em — only two incompletions — one of which was a dropped pass. He threw for three touchdowns, no interceptions and 262 yards. His favorite touchdown target during the regular season, Randy Moss, was held to only one catch for 14 yards. Much like they showed in weeks five and 12, you can take Randy Moss out of the ballgame, but the Patriots will still find a way to beat you.
I guess you have to give credit to Jacksonville for shutting Moss down the way they did. Several other teams throughout the year double-teamed him but even those squads still yielded at least a few catches and at least 30 yards. The Jags only allowed him one catch. So what does that say about Brady who had such a great day even with his best receiver taken out of the game? I'd say the guy is pretty dangerous and the Patriots have stockpiled some serious talent. We're talking about a divisional playoff game and Tom Brady was nearly perfect. I'm not saying that he made the perfect read each play, but the passes he did throw were almost always on the money. For that, Brady took home another record — best completion percentage by a quarterback in a playoff game. Not too shabby. And seriously, can a quarterback play much better than Brady has this year?
(Photo Courtesy Winslow Townson/AP)
I've been sitting on this exciting piece of news for a few weeks and alas, it is time to share. After five and a half years of service with the fantastic FOX Sports Radio Network, I am moving over to Sporting News Radio. You can catch me midweek (usually Tue-Thur) doing sports flashes from 4pm PT through the late evening and on the weekends from 3pm PT through the late evening. Since you're all pretty internet savvy, you can just head over to sportingnews.com and click on the "radio: listen live" icon on the top right corner to check me out. If you have Sirius Satellite radio, we're on Ch. 123, on XM144, and if you're in the So. Cal area, you can pick me up on 1090 — Double X Sports Radio (when they don't have local programming running). Otherwise, check out your local Sporting News affiliate to listen.
I'm pleased to be joining the team at Sporting News where no doubt the brand is on the rise. Just this week it was announced that Dan Shanoff would be writing alongside many prominent bloggers for The Sporting Blog. In light of their recent additions, SPORTSbyBROOKS, Darren Rovell of CNBC, and Michael David Smith at FanHouse have all recognized the re-emergence of Sporting News as a player on the sports media scene. I am excited to be a part of the brand name and maybe we can even make that whole "blogger radio" idea become a reality. Before I move on to the next chapter though, some thanks are in order.
I would like to thank all my colleagues and friends at FSR for making my time there so enjoyable. A big thanks goes out to my bosses Andrew Ashwood and Annie Zidarevich for having faith in me and for giving me the opportunity to start my on-air career at the network level. A big chest bump goes out to all the hosts who shouted out the site and helped it gain some respectability and prominence at a national level — Chris Plank, John Fricke, JT the Brick, Tomm Looney, Jim Rome, Denny Hocking, Andrew Siciliano, Ben Maller, Jorge Sedano, Chris Moore, and Bryan Weeber (gotcha!) — you guys are the best. And huge thanks to everyone on the anchoring, producing, and editing staff who read the site — it was your constant feedback that gave me the motivation to keep posting and I hope you continue to read. Here's to a new chapter …
Just as soon as he got crowned Deadspin's Sportshuman of the Year, this story has to come out. Man, they just don't let you enjoy your moment in the sun these days, do they? Apparently not, because Frank Isola of the New York Daily News writes that James Dolan is finally leaning towards canning Isiah at the end of the season:
Garden chairman James Dolan recently told confidants that he knows a coaching change must be made and that he is preparing to do just that, according to a source close to Dolan. No timetable was given, but the source indicated that Dolan is leaning toward making a change before the end of the season.
…
It is not clear whether Dolan would allow Thomas to continue in his role as the team's highest-ranking decision-maker once he is removed from the bench. Such a scenario would seem unlikely, but Thomas' survival skills should never be underestimated.
I guess all those rumors about Isiah having naked pictures of Dolan running a salad-tossing train with some trannies might not be true. Though the source of the report is anonymous and somewhat vague, I have to think Isola knows what he's writing. Sure we all could have guessed Isiah would finally be out after the year, but now it finally seems as if his run could be over. Crazy that it might finally over after all the Isiah garbage and embarrassment Dolan put up with.
Though Jeff Garcia had a good season for Tampa Bay, there was a time when he hurt his back and struggled to stay on the field. The Bucs were then forced to go with Luke McCown at QB (or a banged up Garcia). If the same situation arises next year, the Bucs are hoping they won't have to go with Luke McCown as a backup option. I mean why go McCown when you retain the rights to … none other than Jake Plummer. That's probably what GM Bruce Allen is thinking since he plans to try and talk that summabitch Plummer out of retirement:
One of the improvements the Bucs would like to make is at quarterback, a position general manager Bruce Allen hopes will include Jake Plummer in 2008.

Of course, the Bucs deemed the quarterback position a priority this time last year, too. In March, Tampa Bay traded a 2008 conditional draft pick to Denver in exchange for Plummer last offseason, but Plummer never played for the Bucs, electing to retire instead.
…
"I'm a very hopeful guy," said Allen. "Jake got to see what we were doing last year. He has a contract and we expect him to honor it."
Either that, or they can try to pursue the thing in court where they've filed a joint-grievance with the Broncos against the Snake. My guess is that Plummer's keister is staying put. He took a lot of heat while he played and was constantly scrutinized. His happiest day was probably the moment he could say "peace, see ya later" to all of that. Not a chance Plummer comes back, though it is kind of funny Allen's going to pursue it. Good luck with that project.
He's just one of those guys — the kind you hate when he's on the other team, and the kind you, well, begrudgingly accept when he's on yours. Actually, for my family, it was quite easy to not only accept Jeff Kent, but moreover, embrace him when he came to the Dodgers. The man works hard, stays out of the spotlight, shows up everyday, and is a superior hitter. You have a team full of Jeff Kents — odd as that is to imagine — and you have yourself a championship. One other aspect about Jeff Kent that goes often overlooked is his genuine honesty. T.J. Simers was able to break the wall that usually shields Kent from most reporters, and through Simers, we've received a great look at who Kent really is. And from his latest comments, it appears as if Jeff Kent accomplished everything in his Hall of Fame career cleanly:
Mobiright