You probably already know my thoughts on this since I've opined on the World Baseball Classic before. Still, let's present the facts of the case first. Over the weekend around 11,000 fans showed up to watch the U.S. play Netherlands at Dolphin Stadium in South Florida (still about 10,000 more than show up for Marlins games). For the game against Puerto Rico, the attendance was around 30,000, about half of whom were fans of the island team (you can see how many people were there on Tuesday in the picture at right). Red Sox first baseman Kevin Youkilis who's been carrying the U.S. offensively in the WBC isn't too happy about all this:
"I don't think we have enough pride in this. It's kind of a sad day – and I know it's a tough time (economically) to buy tickets – when you see that. I don't think there's as much pride in the USA as there is for these other countries. There was a whole section of Dominican fans (Sunday) night just here to watch baseball. I think we're losing a little bit of pride for, quote, 'America's national pastime.' "
…
"It definitely hurts a little bit to know that you're always the away team in your own country," he said. "There are some good people out there, but it would be nice to have a lot more of those people chanting 'USA,' holding up American flags. That's the one thing we didn't see much of the other night – there were more Puerto Rican flags than American (flags)."
You want to know why, Mr. Youkilis? It's because this isn't a real event. Just be happy that your Red Sox games always sell out and that you have a packed house with rabid fans who live and die by each at-bat you take. What do you really expect from the fans, to go head-over-heels for a fake, made-for-TV event? Fans are already committed to their teams, isn't that enough? You'll also notice that the U.S. isn't getting too patriotic because the whole world already acknowledges the best baseball is already played here. What is there for us to prove, that we shared a popular game with the rest of the world? Fantastic, let's all celebrate! The day this event goes away wouldn't be soon enough for me.
(via Ben Maller)
I guess Alex Rodriguez is lacking the filter most players have that keeps them from doing stupid things you know will result in merciless mocking. How else you can explain the following picture that appear in Details Magazine? Cue the Zoolander "I can't help that I'm ridiculously good-looking" music:
I wonder what his teammates are going to about his cute red bracelet. In case that wasn't enough for you, the yoga pose and mattress sitting pictures were pretty cute, too. By the way, I know we've already been down the "How dumb can Alex Rodriguez be?" road before, but why the eff would he have a photo shoot to show off his muscles when we all know they were steroid-induced? Is this guy really paying people lots of money to advise him to do these things?
Just as quickly as the name "Kimbo Slice" was vaulted into the consciousness of sports fans, the buzz surrounding the underground fighting legend dropped faster than the stock of Citigroup. It was said all along by people "in the know" that Slice was a fraud. He quickly proved that no less than a few fights into his professional MMA career, losing to Seth Petruzelli in 14 seconds. Well in case you were wondering what Kimbo's been up to lately, he was in the Bahamas and gave an interview to his hometown newspaper. In that article, Kimbo partially blames the loss to Petruzelli on Ken Shamrock backing out of the fight at the last minute. Slice also says that he wants to move to boxing, essentially because MMA's too hard:
"Boxing is one dimensional while there are a lot of dimensions in MMA. I don't think it would be a hard transition from MMA to stand-up boxing because of my fighting style.
…
"Not taking anything away from boxing preparation, MMA training is extremely hard," said Ferguson. "When you consider martial arts training, you have to prepare for kicks to the head and legs, and opponents wanting to grapple and throwing you to the ground, pounding you with their knees and hands, whereas in boxing you just have to be prepared to weave and bob although the training can be just as intense."
Kimbo also added that another reason he prefers boxing to MMA is because the former allows someone to fight as frequently as they would like, whereas MMA requires six weeks in between bouts. Responding to Slice's primary reason for changing sports, I think this is as strong of an indication as any that mixed martial arts is much more difficult than boxing. Boxing has the past, the tradition, the history, and likely won't soon be losing it. What MMA helps determine is who is the best overall fighter in a ring where almost anything goes. Clearly Kimbo couldn't keep up; he hadn't been trained to.
The only difference between Sean Williams and the rest of us is that he actually acted out on his frustration. And he can probably afford to do so. Williams is a forward for the Nets who was at a mall in Denver because the team was in town to play the Nuggets Monday night. Let's just say things got out of hand …
Lone Tree police were called to the AT&T Mobility store about 2 p.m. Williams was arguing with a clerk when he picked up the computer monitor and threw it, destroying a printer and other equipment in the process, police reported.

The damages were estimated at about $1,300.

Williams, 22, faces misdemeanor disorderly conduct and criminal mischief charges.
Well now we know the real reason why the Nets got blown out by 25 points in the game! Actually though, I was at the Verizon store today exchanging phones and was wondering why I was waiting while three employees were just standing around doing nothing. I have a feeling we all know exactly how Williams felt.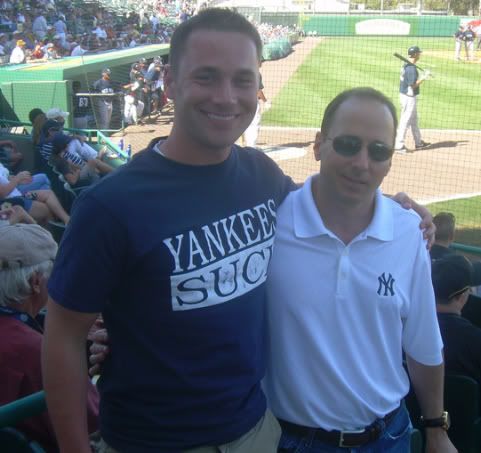 The man on the right (in case you couldn't tell since the sunglasses on his face covered up the jelly donuts under his eyes), is Yankees GM Brian Cashman. The gentleman on the left is … well nobody cares. But his shirt is hilarious, he's got a shite-eating grin on, and it makes this picture a classic. I started busting up uncontrollably when I saw it. Big ups to Deadspin (of course) for the picture. I mean, who else would get something that great?
Right up there with those ugly Oregon baseball uniforms has to be what the Chicago Bulls wore on Tuesday in their game against Boston. I might not be a smart man, but I'm pretty sure the Celtics are supposed to be the team in green when they play the Bulls.
It may have been St. Patrick's Day but Chicago took things entirely too far. Their only saving grace is that they won the game. Boston can partially thank Doc Rivers for blowing it considering he got T'd up with the team down by only four and around 26 seconds left. If that didn't happen, they had a chance at winning. The knee injury to Garnett really has killed Boston as far as home court advantage goes. That should be a fun battle if Cleveland hangs on for the top seed.
Gilbert Arenas gained a lot of his popularity by doing outrageous things off the court and interacting with fans online. His legendary tales of playing online poker at halftime (which was actually just a handheld video game) and showering in his uniform during halftime endeared him to the public. So did his blog. While he was a pioneer in these areas no less than three years ago, it seems as if in a short amount of time several other athletes have turned to the online community to interact with fans. Many of them have done so by using Twitter. Shaq has famously become one of the big twitterers in the NBA, and even Washington Huskies player Jon Brockman used it to get back at Washington State fans. But as far as I've seen it, nobody's twittered during a game, until now. Enter Bucks forward Charlie Villanueva who posted the following message at 10:17am yesterday:
In da locker room, snuck to post my twitt. We're playing the Celtics, tie ball game at da half. Coach wants more toughness. I gotta step up.
10:17 AM Mar 15th from TwitterBerry
Well, the Bucks and Celtics did play a morning game, and Milwaukee did win it 86-77. Villanueva had 19 and 7, so I'm not really sure Scott Skiles would have too many bad things to say about his player giving online updates at halftime. Check that, he probably will say something about it. At least it didn't produce a bad result this time. And in case you're doubting whether or not it was really him who made the twitter update, CV31 answered the question. By the way, for a guy who runs a sports website, I'm kind of slow on joining internet waves. I have created a twitter feed twitter.com/lbsports (larrybrownsports was too long) but I haven't done anything with it yet. Maybe one day I will considering how popular it's becoming.
T.O. says it (half-jokingly) and it becomes a firestorm. Terence Newman says it (a week ago) and not much attention is paid. Newman had an interview with WFAA in which he talked all things Cowboys. I thought he had a great take on team captains, saying that it should be the guys who played the best the week before because they've earned the right to speak. After that, maybe a few guys are needed to step up and say something when it's appropriate, but in general, leadership is earned. He was also asked about everyone's favorite Cowboys subject (now that The Player is gone), Tony Romo. Here were Newman's thoughts on whether or not Romo's grasped what being the Cowboys quarterback is all about:
"I think that with the situation Tony was in, I think that kind of maybe hurt him a little bit, being a first-year starter. Then you have the limelight with his girlfriend and situations of that nature — it's going to take away from him being a quarterback, being a successful quarterback. He won 13 games and everything was perfect, but now, after this past season, it was, 'Is he doing enough for the team? Is he working hard enough? You know, he's got this girlfriend, so …' I think that once he inherited the starting quarterback job and his relationship got into the national media attention, I think that that was something that definitely hurt and took away from Tony Romo being a great quarterback."
I've defended Tony Romo in the past saying people are too quick to criticize him, forgetting how young he is in his NFL career and how good he's already been. I've said it before and I truly believe that winning cures all. Because the team lost and didn't make the playoffs, people look for reasons to explain what went wrong. I don't condone going to Mexico the week before a playoff game, but I don't think anyone would be saying this stuff had they won a few more games last season. And losing was more a factor of a bad secondary, a brutal schedule, and an unfortunate pinkie injury to Romo, rather than his flakiness because of a girlfriend. It's too bad that Newman fell into the trap along with so many others.
UPDATE: Newman has since tried to "clarify" his comments
Video of the entire interview below in case you want to check it out (Romo comments at the 6:45 mark or so):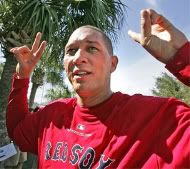 When you're Julian Tavarez and your physical appearance is about as attractive as your 6 ERA, you're probably used to hooking up with the bottom of the barrel chicks at the club. That's probably why he readily made this comparison to signing with the Nationals, a team that has been one of the worst in baseball since their inception:
"Why did I sign with the Nationals?" Tavarez said told a group of reporters. "When you go to a club at 4 in the morning, and you're just waiting, waiting, a 600-pounder looks like J. Lo. And to me this is Jennifer Lopez right here. It's 4 in the morning. Too much to drink. So, Nationals: Jennifer Lopez to me."
…
"I would like to be a starter, but it's like my father said: 'You want Jennifer Lopez, but does she want you? No.' You just take whatever she is giving to you. So I just take whatever they give to me," Tavarez said. "They give to me as a long man, I take it as a long man. Set up man, I take it. Starter, I take it. I can do whatever."
Clearly it was last call for Tavarez and he couldn't afford to be picky. Big League Stew has the actual audio Julian gave in case you want to hear it, too. I wonder how pleased the Nats will be to hear him clown on their organization. I guess the good news is what Tavarez said at the end of his comments — this is his only opportunity so he's going to work hard to make the most of it. And actually, I think the Nationals are going to be a lot better than most people think. They have no bullpen but they did swing a trade for Josh Willingham and Scott Olsen from the Marlins, and they signed Adam Dunn. Those are three good additions right there. They're nowhere near a playoff team, but they'll be much better than they have been in the past.
If ever there was an NBA player that embodied the term "knucklehead," Smush Parker would be it. The guy was pretty much a joke of a player, especially for one who started at point guard in back-to-back seasons for the Lakers a few years ago, getting around 30 minutes per game. He tried a rapping career off the court which busted, and he's been known to have serious struggles with valet from time-to-time. That's why we take what he says with a grain of salt, including his remarks on this MSG program. Skip to the 40 second mark for the juicy stuff. (transcription below in case you can't watch it)
Now just because he's a bad player who's currently unemployed doesn't mean what he said wasn't true. It probably is how he feels considering he was complimentary about Phil Jackson. The transcription of his remarks is below, and thanks to FanHouse for the video.
Mobiright