So one of my favorite blogs out there is The Big Picture, and for several reasons. First, it gives me a laugh every time I visit the site. Second, they run a kickass "Would You Do…" feature which is hilarious. And third, they run interesting interviews with some of the more prominent sports bloggers in the blogosphere. As they say, "these guys spend countless, thankless hours writing, so a little recognition from time to time is well warranted." Well, it is for that reason that I think the main man behind The Big Picture deserves some recognition for his contributions to the sports blogosphere. I present you this interview I had with him recently (many of you will note the familiarity)…Treat him nicely folks

1. A few questions about yourself:

Name: The Big Picture

Age: The hot chick I was hollering at Friday night thinks I'm 25, but my driver's license would say 23.

Location: Seattle/Bay Area

Occupation: Sportswriter, Winner

Favorite team: SF Giants, University of Washington basketball

Time per day spent perusing the blogosphere: Well, I've been dreaming about blogs lately, so we can leave it at that.
You know how you always hear people say "I think it would be best for that team to trade down." One part they fail to answer is, with whom? Which team is looking to trade up at the same time? Well, according to Jerry Jones, the Cowboys are a team looking to trade up:
"I'm looking at the possibility of, and probably more seriously considering it than I ever have, doing some bundling up and trading up," Jones said.

"He needs to be someone that has something extra, and I think that, to some degree, receiver would fall there," Jones said, also mentioning cornerback and running back.
Oakland, Arizona, get to work…get on the phone with Jerrruh ASAP. A deal needs to be made. But the question is…who is the player they could want? Who's the "wow" guy for Dallas? Do they really need a top-shelf running back even with Barber and Julius? Cornerback is a glaring need, but who would fit that spot? Jerruh's got me confused.
First we had one Baylor basketball player shoot his teammate, then we had a Northern Colorado backup punter stab the starter in his leg, and now there is a report that Colorado State basketball player Xavier Kilby allegedly pointed a gun at teammate Ronnie Aguilar's head. (Kilby is the sweet young man pictured at right) From the Fort Collins Coloradoan:
Kilby, a 21-year-old forward from Phoenix, was arrested on suspicion of felony menacing and prohibited use of weapons, a misdemeanor, stemming from the early Sunday morning incident, Fort Collins Police spokeswoman Rita Davis said this afternoon.

Davis said Kilby and Aguilar got into an argument in the living room and that Kilby pulled out a small revolver, pointed it at Aguilar's head and then pointed the gun at a couch and discharged the weapon. Davis said Stephan Gilling, another CSU men's basketball player, also was in the living room at the time of the incident.
Let's try to get to the bottom of this. Odds that he pulled the piece because…
He lost in a game of NBA Live '07 4:1
He caught Aguilar scamming on his chick 3:2
Aguilar forgot to take the trash out 20:1
He hadn't been laid in eight months and let the tension boil over 7:1
Aguilar was screwing with his myspace profile 12:1
He was upset over his role in the motion offense 15:1
Gentlemen, place your bets…
Check out the shift the Devil Rays tried to use on Pronk over the weekend. Pronk was 11-15 after three games against the Yanks and the first game of the series against the Devil Rays, which led up to this shift they used on Saturday, April 21st: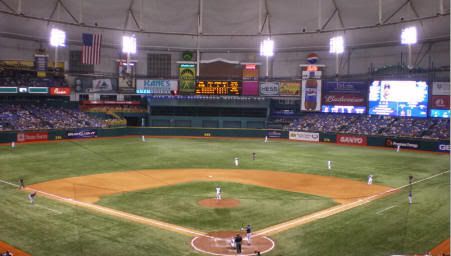 Yes, that's four outfielders and three infielders on the right side of the field. Don't ask me why Hafner wouldn't just drop one down the third base line, he'd probably get a double out of it, but that's pretty cool. Photo comes from armchair gm via fark.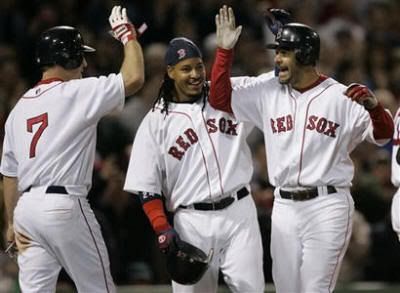 It's like automatic, stick JD Drew in a lineup, and he makes everyone around him better. How else can you explain the back-to-back-to-back-to-back home runs by the Red Sox Sunday off Yankee starter Chase Wright that led to a 7-6 win? Witness reliever Brendan Donnelly:
"Man, that was fun to watch," Donnelly said. "I'll guarantee you none of us in this room has ever seen it. I feel for the pitcher a little bit. Just a little bit, because he's on the other side."
Actually Brendan, you're quite wrong. J.D. Drew was the second of four consecutive Dodger hitters to go deep in the 9th inning of the Dodgers 11-10 extra-innings win over the Padres on September 18, 2006.
"What are the odds, the chance of being part of this twice," Drew said. "I was the second guy in both of 'em. I told Coco [Crisp] after Lowell hit his that we were one away from Los Angeles, and it happened."
As crazy impressive and amazing as that feat was for Boston, one thing to keep in mind is that the Padres won their next game, and went 10-3 after that point to finish up the season — so don't write the Yankees off for the rest of the year.
However, I do have one point of contention. My old coach used to say nobody goes back-to-back-to-back. Just doesn't happen. You know why? Because you put it in someone's ear in between. And that's the point I'm missing. How did Wright let them hit four consecutive home runs without breaking it up with some chin music? How did he just lay it up there four batters in a row? Am I wrong here?
There he was appearing as a guest analyst on The Hot List on ESPNEWS Monday, joining Josh Elliott. The title for the segment — Hall of Famer Breaks Down the Playoffs. The second question was about the 8th seeded Warriors who pulled off a stunning Game 1 victory over the top seeded Dallas Mavericks. Elliott asked Robertson what it meant to have a complete point guard like Baron Davis in the playoffs. Here was Robertson's intricately detailed response:
In this case he was making the shot. When you make the shot outside it opens up everything for you because you can go to the basket. I don't think that those guards that Dallas had — I don't remember their names right now — they're not strong enough for him.
Next, Elliott dared venture into MVP territory, asking Robertson what he liked about Steve Nash's game:
I think Steve Nash is a smart basketball player, he knows what's going on out there. I think that what he's done for the team … what about that other kid, Barbosa? Boy they have two great offensive guards, they can really bring it to you.
After that brilliant display, Elliott asked the Big O what he thought about Shaq's comments that the MVP award had been tainted. Amongst Robertson's highlights:
That's what Shaq believes. Whoever they pick, that's who they voted for.
Oscar Robertson: good at basketball, bad at analysis.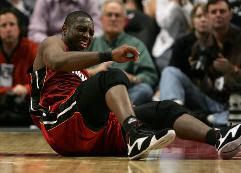 The jersey's unraveling by it's thread and nobody wants to admit it. Miami's already lost Game 1 of the series, and the Heat are searching for answers, with Pat Riley taking D-Wade to the woodshed:
'I'm not going to give him a pass," Riley said of Wade. "He did not do the job defensively that he had to do. And we just have to face that fact."
Clearly D-Wade is feeling the pressure as well:
"Coach [Pat Riley] expects the world out of me," Wade said Sunday. "He expects more out of me than anybody probably ever expected.'
Make no mistake about it — the Heat rode Wade's hot performance to the title last year. But that magic doesn't appear to be happening again this year. Luol Deng blew up the spot with a playoff career high 33 on Saturday. Shaq being the sore loser that he is, was bitching about the refs, blaming them for the Heat's loss. Miami still has plenty of room to turn it around and make a run, but a run won't get them to the finals this year. And if they do make the run, it will be because of Shaq (who needs to stay on the court), not Wade.
We already know that the Wiz are without Gilbert Arenas for the duration of the playoffs — he's out til next year with a knee injury (even if he maintains he could stand in the corner and bust threes all day). And even though I properly buried the team a while ago, they at least maintained some shred of hope to get a game off Cleveland in the playoffs. But now even that hope seems gone. Now the Wizards have officially thrown in the towel, announcing that Caron Butler will miss the first round of the playoffs:
"He is not in our plans, right now – not as a player," Jordan said after practice Monday. "If we get deeper in the playoffs, possibly, but not in the first round."
Well, you might not want to say it Eddie, so I'll say it for you, Butler's out for the year, cuz the Wizards aren't getting out of the first round. This news begs the question: is there a bigger mismatch in the first round of the playoffs? Perhaps Detroit and Orlando?
No, this is not an unfounded rumor.  Yes, I was just as stunned as you to hear it.  But none other than Adrian Peterson himself suggested that he could be drafted by the Arizona Cardinals.  On Saturday evening he joined Evan Cohen on Fox Sports Radio and was asked…
Adrian, if you had to give me two teams that you may play for — your gut feeling as to where you end up in the draft and those millions of dollars that you're going to make would be riding on it, you tell me what two teams?

I would say Cleveland or Arizona.

Arizona you think is a possibility even though Edgerrin James is there?

Yeah, yeah, I think it's a possibility.
Well, I guess Peterson would know better than anyone else considering he's the one who works out and interviews with all these teams.  But with the money the Cardinals have invested in Edgerrin James, I'm skeptical to believe they would also invest top five money on Peterson.  My guess it's one of two things:
The Cardinals really are interested in Peterson but nobody knows it
That was Adrian's way of saying he'll be a top 5 pick
I guess we'll only find out in a week.
Initially you're overwhelmed by the sheer force of the numbers — a crowd of 92,000 showed up to watch an intra-squad scrimmage. But when you get down to the nitty-gritty of the matter, of course that many fans showed up — it was their only chance to see Alabama get a win.
School officials had planned for around 50,000 fans to be on hand, and were prepared to host even 60,000 just in case. I can't imagine what 92,000 did to them. Defensive end Wallace Gilberry made a comment that he thought Florida or Tennessee were in town. Nope, just Nick Satan Saban in his first year as head coach.
It shows what kind of passion and support we have at the University of Alabama," Saban said. It certainly makes me feel great about being here as the coach. I just hope we can continue to channel all that energy in a positive way so we can get to where we want to go and continue to build this program into something special."
Translation — we're not in Miami anymore. Then again, Saban won a national title at LSU, so he knows what rabid SEC fans are like. Man, even if Saban was a jackass for leaving the Dolphins, have to feel for the guy — and anyone who has the pressure of 92,000 fans showing up for a practice game. That is pure insanity. It's that type of passion by the fans that really make you hope for some serious strides in Tuscaloosa — perhaps a 2-10 season.
Mobiright