After reading that the Clippers were discussing the possibility of hiring Isiah Thomas, there was no doubt Zeke was close to finding a new job. It's been just over a year since Isiah was canned by the Knicks after costing them years of potential success and over $10 million in a lawsuit. I never thought Isiah would actually get a head coaching job in his first gig back but it appears as if that's the case. Florida International would rather see their program commit suicide by hiring Thomas than continue to post a sub-.500 record under Sergio Rouco. The hiring is expected to be announced on Wednesday:
"Isiah really wanted to get back into coaching, and wanted to do it at the college level," said the source. "He was offered some jobs within the NBA, but he feels FIU suits him better right now. He wants to make a clean start, loves Miami, and thinks FIU has a lot of potential because of where it is and because it's a big school with 38,000 students and a strong alumni base."

The source said Thomas has always enjoyed eyeing and developing young talent, and the Golden Panthers job is perfect.
Pardon me if I can't help but laugh after reading the "Enjoyed eyeing and developing young talent" part. In the case of A-mooch-a Brown Sanders, middle-aged talent might be more appropriate. Though the hiring of Isiah could bring the program a ton of publicity and make it easier to recruit, I'm pretty shocked they would turn the reigns over to him. Thomas was a complete screw-up with the Knicks and has proven he can't run a team or organization. And clearly he's pretty unstable mentally. I don't understand why they wouldn't go with a safer pick — there's no way this ends well for them.
First we had the Timberwolves create a line of glass cleaning products to promote Kevin Love for Rookie of the Year. This time it was the Sacramento Kings promotion staff creating the SlamWow in honor of their mascot, Slamson the Lion. And wouldn't you know, the ad is just like the ShamWow commercial!
I have no idea if that little bit helped move some stuffed animals, but I definitely found it to be hilarious. If only the basketball team could put forth the same effort they might have something brewing. Blake Griffin would look pretty good in the purple …
Lane Kiffin's run his mouth so darn much lately it's hard to distinguish fact from exaggeration. At some point I might have to take everything he says with a grain of salt but I'm not quite there yet. That's why I'm still inclined to share Kiffin's thoughts on the state of Tennessee's offense:
"I feel like we're in the '60s right now with our offense," Kiffin said. "We've got to run the ball and throw play-action right now. That's about all we can do. It's pretty scary right now. We've got a lot of work to do."
That was after a team scrimmage in which the offensive line struggled to protect quarterback Jonathan Crompton. I know Kiffin has his doubts now, but I saw the way he operated the Raiders' offense so I have confidence they'll be fine. By the way, I love the shot Kiffin's taking at Phil Fulmer by saying that; it's almost as if he's pre-warning fans and shielding criticism by putting the blame on what Fulmer left him by making such a remark.
(via FanHouse and College Football Talk)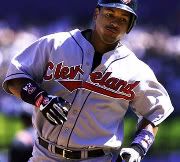 For those of you who had the first week of the season as the date Manny Ramirez would have his first "Manny Being Manny" moment, congratulations and please step forward to claim your prize. Even though the city jumped for joy when Manny arrived at camp, I cautioned that it was only a one-year deal with a player's option for a second year, meaning Ramirez could be gone after the season. Looks like he already has his eye set on new (but old) scenery:
"I would like to play for Cleveland one more time, to go back where I started," said Ramirez, with the Dodgers playing their home opener Monday against the San Francisco Giants at Dodger Stadium. "I have so many good memories there, why not? I think to go back where you started is everyone's dream."
So much for the honeymoon in Los Angeles. Wasn't this the same Manny who proclaimed how much he loved LA and how it was the best spot for him? I'm not even sure why this guy would mention his interest in the Indians considering Cleveland's budget constraints compared to his salary demands. Now if Manny takes a pay cut and is willing to DH in the future, I could see him going back. Just one question though: Why make this announcement now? Is he just intentionally trying to piss people off and get the McCourts nervous all over again? I guess so. He won't even let fans enjoy the one year they might have left with comments like this one.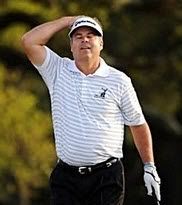 Admittedly, I didn't see all 72 holes of the Masters this week, but I definitely saw Kenny Perry blow the Masters in the last two holes. Perry was up by two strokes with two holes to play after he eagled 16. Perry hadn't bogeyed a hole in his final round leading up to 17. All he needed was a par on either hole and he was set free as the oldest winner of any major at age 48. Instead, Perry hit into a bunker on 18 and saw the green jacket vanish before his eyes. Thing is, despite choking, Perry still had a chance to win it all in the playoff. Chad Campbell bogeyed on the first playoff hole leaving just Angel Cabrera and Perry. Cabrera had even hit straight into the woods on the first playoff hole — he wasn't exactly playing stellar golf. Despite blowing it, Perry says the choke job won't haunt him:
"I may never get this opportunity ever again, but I had a lot of fun being in there," Perry said. "I had the tournament to win. I lost the tournament. But Angel hung in there. I was proud of him."
…
I'm not going to feel sorry," Perry said. "If this is the worst thing that happens to me, I can live with it. I really can. Great players get it done, and Angel got it done. This is his second major he won. I've blown two. But that's the only two I've had chances of winning."
I enjoy Perry's perspective on the issue but it's disappointing that he blew it. Anyone watching the telecast saw his wife and daughter, so you can probably understand why he can live with it — he's already pretty well set. And by the way, am I the only one wondering how Tiger and Phil wound up in the same pairing Sunday? Based on their respective scores following the third round, they shouldn't have been matched up together. Gotta love CBS trying to manipulate the ratings and make it more about those two than the actual winner. In this case though, it's hard to really call Cabrera the champion with the way he backed into things.
The Cavs pounded the Celtics on Sunday, crushing them from the start and going on to win it 107-76. I guess the frustration for Boston was manifested in Ray Allen's tussle with Anderson Varejao in the 3rd quarter. Let's go to the video:
That one referee was right under the basket so I'm not sure how he missed it. As Brett Pollakoff at FanHouse pointed out, Allen's elbow should have warranted an ejection. This marks the second point in a week that a body part of Varejao's was featured here at LBS. Anyone else think it was interesting that Andy was unfazed by the nut shot?
Some people are brushing this game aside as inconsequential. With KG out and nothing at stake for seeding, I could see why people would consider this game meaningless. Still, I think it does prove that the Cavs can dominate the Celtics. With home court on their side and Garnett at less than 100%, I'm confidently going with Cleveland to reach the finals. I'd love to see the Cavs win it all and have LeBron stay in Cleveland for that matter, too. We'll see how things unfold.
Lawrence Taylor did an interview with Sporting News' Steve Greenberg that appears in this week's issue. I'm guessing LT agreed to it so he could promote his appearance on Dancing with the Stars and his endorsement of the weight-loss program, Nutrisystem. There wasn't a whole lot of meat there and LT was pretty disappointing overall. There was a considerable amount of cussing which is always fun. About the only thing good from the excerpt posted online was Taylor's comment comparing dancing to football:
"It's more time-consuming, especially the mental work. It's a lot like going through the playbook. You expect to read it and know it by Sunday. That's the correlation I see and the biggest challenge."
Now I've heard nothing but how time-consuming football is. Coaches spend countless hours preparing each week and players do nothing but practice, lift, study, attend meetings, and watch film. Everything we're told about how hard they work makes me wonder how they have time to get into as much trouble as they do. What I gather from this comment is that football came so easy for LT that he didn't have to prepare as much. I can't imagine how dancing could ever be more time-consuming, even if it does take 8-10 hours of practice each day as Karina Smirnoff told me. I guess LT was just that good at football. His other interesting comment was that the game has become more of an individual sport than a team one. Funny, I always considered it the most team-oriented game of all. Perhaps he's referring to the coverage of the sport — that would make sense.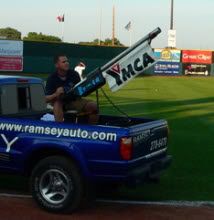 File this story under the header for "Money grabs." Many teams will have giveaways where they launch stuff into the crowd, creating a frenzy as people who just dropped $50 for a ticket, parking, and food, all scramble for a $5 shirt. It makes a lot of sense when you think about it. Anyway, one particular White Sox fan says he was injured from one of these giveaways and is suing the team:
David Babusiak's lawsuit says he suffered a severe back injury after T-shirts were fired into the crowd at a game in 2007. He claims shooting T-shirt projectiles was an "abnormally dangerous activity," especially when some fans may have been drunk.
…
Babusiak of St. John, Ind., filed the suit Thursday in federal court in Hammond. It seeks $75,000 in damages.
Sure, I'll admit that the shirt cannon shooting creates a frenzy for a minute, but so does a foul ball or home run ball hit into the crowd. Don't they have disclaimers on the tickets saying the team isn't responsible for injuries that happen at the game? Even after this guy got hurt I can't imagine it's 75 grand worth. Can't people find better ways of making money?
(via Fark)
You know what a big fan of weird sports injuries I am, so when I heard about this one I knew it made the cut. Reds left fielder Chris Dickerson is part of a platoon along with Jerry Hairston Jr. but he hasn't seen much action lately since the team has faced a bunch of lefties to start the year. He wasn't scheduled to play on Saturday because left-hander Paul Maholm was starting for the Pirates, but he would have been unavailable anyway:
Dickerson's attacker struck Saturday morning as he headed to Great American Ball Park. The lurking evil was a revolving glass door at the downtown hotel where he is staying. He apparently banged his head on the door as it swung around.

"My 'real' story is I hit my head on the rim during a celebrity slam dunk contest," Dickerson joked. "They do need to do something about that door. It's a deathtrap waiting to happen. I can only imagine what happens with people less coordinated than me. I'm a little clumsy, but a pretty coordinated guy. I should be able to fly through that thing easy. I struggle with it every day."
At least he has a good humor about it. Dickerson's only had six at-bats this year but he has two hits. I'm sure he'll have plenty more chances to hit as the season goes on. Last year he mashed in just over 100 at-bats so bright days should lie ahead for him. And on a personal note, it's comforting to know that one of the toughest outs you ever faced in high school turned out to be a pretty good major leaguer.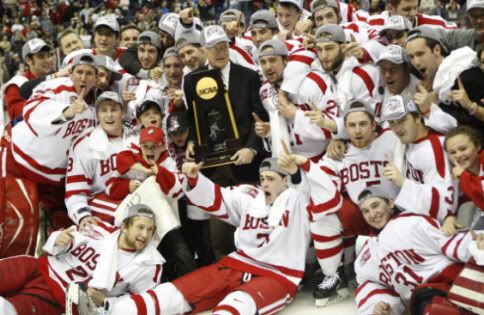 Ordinarily the Frozen Four wouldn't register too highly on the sports radar for the average fan. It's hard enough to get people interested in the NHL as is, and the pros play at such a higher level than the collegians that it's not even like watching the same sport. That aside, the 2009 Championship Game between Miami (Ohio) and Boston University will go down as a legendary one. After scoring with about four minutes left in the game, Miami of Ohio made it 3-1. They were only four effing minutes away from winning the national title. As you'll find out through this highlight video, they came to blow the lead. The comeback was amazing:
Mobiright